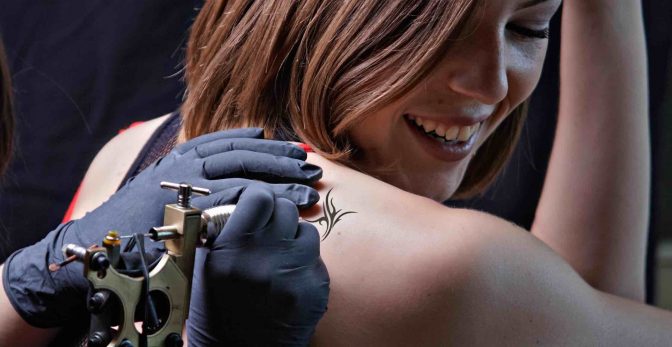 I love getting Tattoo's.
But I wish it wasn't so PAINFUL.
I am a massive wuss when it comes to needles.
So I need something to help with the pain.
I found that using a Tattoo Numbing Spray works GREAT.
But there is quite few out there to choose from.
Today you are in for a treat….
….because I am going to review the 5 best products available.
Lets go!
Quick Comparison
Product Name

Size

Price

Editor Rating

4 fl oz​

$$$

2 fl oz​

​

$$

​2 fl oz

$$

1.5 fl oz​

$

1 fl oz​

$
First, how does numbing spray work
Tattoo numbing sprays contains something called lidocaine which is local anesthetics. Like other local anesthetics, lidocaine stops the pains signals from your nerve endings reaching your brain.
This allows for a much more comfortable experience during a tattoo session. Some sprays include ingredients like aloe vera which help sooth the pain naturally.
Other products like tattoo numbing cream and LMX cream also have a similar effects.
Tattoo sprays do not tamper with the artwork in any way at all. All they does is help you manage the pain.
With all sprays make sure that you follow the instructions properly so that you get the best results.
Vasocaine Numbing Spray
Vasocaine is made by US based company Dermal Source. They have been developing anesethetic products within their FDA approved facilities since 2004.
Vasocaine is a POWERFUL 5% lidocaine liquid based formula. It comes in a 4 ounce bottle with a spray top that allows easy application.
I found that 3 sprays every 20 minutes provided the best results. Make sure the spray tip is about 3 inches away from the area that will be worked on.
Leave it for 90 seconds and then wipe off the excess. Vasocaine takes about 5 minutes to kick in so be patience.
It is also important to remember that this tattoo numbing spray only works if the skin is broken. So it doesn't really work on tattoo outlines.

Buy for $$$ on Amazon
Extra Strength PreTAT
PreTAT is developed by TAT Balm. They are a bunch of body art enthusiasts based out Salem Oregon.
Expect for lidocaine, PreTAT is made only using NATURAL ingredients. I like this because this means that it is less likely to harm your skin.
The tattoo numbing spray is a 3 in 1 solution:
This combination not helps with the pain; it also reduces the bleeding and healing time. It also gets to work REALLY quickly – taking only about 10 minutes to get going.
Once it was on my skin it lasted for a good 2 hours! PreTAT is perfect if you long tattoo sessions.

Buy for $$ on Amazon
HUSH Tattoo Numbing Spray
HUSH has been part of the tattoo scene since 2008. This American based company supply a range of anesthetics.
HUSH have brought all of the GREAT qualities from there numbing gel and developed it into a spray. HUSH uses a natural blend of botanicals including aloe.
These ingredients help reduce bruising and speed up healing time.
HUSH Tattoo Numbing Spray is FDA approved. Also, none of their products are tested on animals.
For best results spray HUSH onto the skin about 1 hour before your tattoo and leave it onto until your ink work begins.
I love the message and branding HUSH is trying to achieve. However, their product just doesn't match up to some of the other numbing sprays I have reviewed today.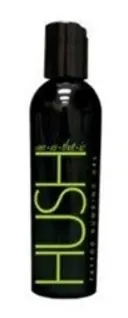 Buy for $$ on Amazon
GiGi Honee Anesthetic Numbing Spray
Gigi have been creating products within the waxing industry since 1972. They initially created there numbing spray to reduce pain during waxing.
The product contains 4% lidocaine which also makes it perfect for when you get a tattoo.
Active Ingredients:
Caprylic/Capric Triglyceride

Buy for $ on Amazon
GiGi Numbing Spray isn't as strong as the products with a 5% lidocaine. But it does still provide a GOOD result.
It still defiantly takes the edge of when you get a tattoo…and doesn't affect the ink/color.
It only takes a few minutes to work and last for about 40 minutes to a hour. If you have a long session then you will probably need a few top ups.
What I also like about this numbing spray is that it absorbs nicely into the skin.
Derma Numb
Along with Lidocaine Derma Numb combines yarrow root and yucca glauca root.
These are two very important Native American natural healing and numbing agents. They help to sterilize and rejuvenate skin cells.
Ingredients:

Buy for $ on Amazon
For this numbing spray to work you need to make sure that the skin is broken.
Position Derma Numb about 3 inches from the area which is getting tattooed and spray once the work has begun. It should kick in after about 90 seconds.
I found that this particular product helped a little but didn't last for very long. I had to keep re-applying for Derma Numb for it to be effective.
It is only a 1 oz bottle so it didn't last the whole tattoo session which was disappointing.
Will My Tattoo Heal Properly If I Use A Tattoo Numbing Spray?
It sure will.
In fact some of the numbing sprays I have reviewed today contain anti-inflammatories and anti-irritants. These ingredients relieve the pain and reduce swelling which helps your skin heal faster.
As long as there is no complications then you should expect your skin to heal in about 5 days.
How To Apply Tattoo Numbing Spray?
It is important to remove all dead skin and oil before you apply the spray. Ask your tattoo artist to clean you up with some green soap.
Green soup is a vegetable oil-based, environmentally safe soap that is normally used in parlours to get your skin clean and ready before for your artwork.
Once your skin is broken apply a generous amount of numbing spray to the area that is being tattooed.
Do not spray near your eyes or your mouth. If you are have a tattoo or piercing on the face then please spray onto a cloth, cotton ball or swab and then apply.
Keep applying the spray every 20-25 minutes depending on your pain threshold. This should keep the area nice and numb during the session.
Related Post
1. Why Is My Tattoo Raised and Itchy After It Has Healed
​2. Preparing for a Tattoo: Learn How To Get The Best Results
3. ​A Day To Day Guide To The Tattoo Healing Process