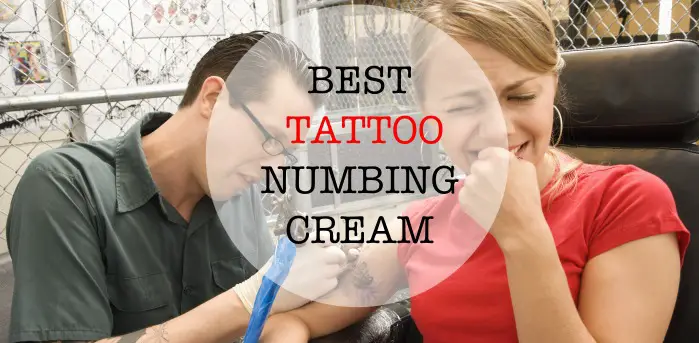 Skin Art Without The Agony
You've probably heard of the phrase 'no pain, no gain.' But would it be possible to get a pain-free tattoo? Well, if it's your first time, then the answer is probably NO.
Naturally, getting a tattoo hurts (depending on your pain tolerance) and there is no shame in admitting that. Some might believe it is a rite of passage!
If you have been thinking about getting a tattoo and you know you have low pain tolerance, it is best to look for ways to have a less excruciating experience. But, if you've already been tattooed and looking forward to getting more, the process shouldn't be as painful as your first time.
So, here's our ultimate guide for you. We have listed the best tattoo numbing creams, how and if they work, as well as additional ways you can beat the pain.
Quick Picks: Editors Top 6 Creams & Gels
The Best Numbing Cream For Tattoos
There are a number of numbing creams available in the market. How would you know which numbing cream is the right one for you?
Worry not, I made your research easier for you!
Numb 520 (5% lidocaine) is the new kid on the block and it's gaining more and more popularity. It's developed by Ebanel Laboratories, a leading skincare manufacturer based in California.
This tattoo numbing cream gets working right away. You should start to feel numbing after about 5 minutes, with the full effect kicking in 20-25 minutes later.
Numb 520 maximum numbing power lasts around an hour before starting to fade, which is not ideal if you have a long tattoo session. So keep this in mind before you decide whether or not to purchase this tattoo numbing cream.
Active Ingredients: Lidocaine 5% - Inactive Ingredients: Water, Triethanolamine, Carbomer, Propylene Glycol, Benzyl Alcohol, Ehtoxydiglycol, Lecithin, Neopentyl Glycol Dicarprylate/Dicarpate, Sodiuym Polyacrylate, Hydrogenated Polydecene, Trideceth-10, Cholesterol, Allantoin, Benzyl Alcohol, Tocopherol Acetate, Polysorbate-80
2. Vasocaine Numbing Spray
Vasocaine is developed by US based company Dermal Source. They have been making anesethetic products within their FDA approved laboratories since 2004.
Vasocaine is a STRONG 5% lidocaine liquid based solution. It comes in a 4oz bottle with a spray top that allows you apply easily.
I found that approximately 3 sprays every 20-25 minutes produces the best results. You must make sure that the spray tip is about 3 inches away from the tattoo area when applied.
Leave the formula for 90 seconds before wiping off any excess cream. Vasocaine can take up to about 5 minutes to kick in, which is really fast!
It's also important to remember that this tattoo numbing spray only works if the skin is broken. So it doesn't work well on tattoo outlines.
Greencaine is developed in an FDA-supervised laboratory within the US by pharmaceutical experts, Alma Laboratories.
This professional grade topical numbing cream combines a non-greasy aloe vera formula with 4% lidocaine hydrochloride.
It comes in a large 4 oz (114 grams) tube that has been pre-cycled. Pre-cycling is pre-consumer recycling.
This "earth friendly" concept allows Greencaine to take advantage of corporate waste, by purchasing unused surplus packaging that would normally end up in landfills.
This topical anesthetic is the best numbing cream for tattoos in my opinion.
I love that this lotion soaks right into the skin, without leaving residue like some of the solutions I have used in the past.
​I find that applying a moderately thick layer to the tattoo area about an hour before my session works best. When you leave it for this long, it seems to strengthen the numbness.
​This solution always works great for me, and even leaves my skin numb for another 2 hour after my appointment. Greencaine is so confident with their results they even offer a risk-free 100% REFUND POLICY.
Active ingredients: Lidocaine 4% -Inactive Ingredients: Aloe barbadensis leaf juice (aloe vera), caprylyl glycol, carbomer, disodium EDTA, glycerin, glyceryl laurate, jojoba oil, SD alcohol 40B, triethanolamine, water.​
4. Topicaine Tattoo Numbing Gel
$$
Topicaine Anesthetic Cream comes in a handy 30g tube and contains 5% Lidocaine.
This lotion was designed for a variety of purposes, including giving blood!
Topicaine is easy to use and has a non-greasy formula. Simply apply and leave for around 20 minutes while the pain-killing action kicks in. Be patient for best results!
I found this tattoo numbing cream kept me numb for upwards of an hour. It was FANTASTIC!
Using Topicaine, I had my ear pierced with next to no pain. Definitely recommend.
Active Ingredients: Lidocaine 5% - Inactive Ingredients: Lidocaine 5% water, ethanol, glycerin, jojoba oil, aloe vera oil, shea butter, alpha bisabolol glyceryl monolaureate, benzyl alcohol, carbomer 940, EDTA
Dr. Numb is an FDA approved product containing the highest allowed amount of Lidocaine.
This is definitely one of the most well-known numbing cream for tattoos. This lotion lasts for around an hour and REALLY WORKS! It's ideal for shorter procedures, such as tattoo touch ups and piercings.
Best of all, this solution is health-certified!
It comes recommended by most tattoo shops and dermatology clinics worldwide. It also contains Vitamin E to condition the skin.
Active Ingredients: Lidocaine 5% Local Anesthetic - ​Inactive ingredients Carbopol, lecithin, propylene glycol, purified water, vitamin E.
HUSH Tattoo anesthetic gel has a reputation of being even more effective than a traditional numbing anesthetic!
FDA compliant, HUSH is designed for use BEFORE and AFTER treatment. It will not disturb or affect the quality of ink work, results in wonderfully-healed tattoos.
​A clear, non-oily gel contains a blend of botanical extracts including aloe, green tea and chamomile. Epinephrine and paraben free!
Ideal for longer tattoo sessions and bigger pieces.
Ingredients: 4% Lidocaine, Purified Water, SD Alcohol 40B, Aloe Barbadensis Leaf Extract, Propylene Glycol, Triethanolamine, Glycerin, Menthol, Chamomile (Chamomilla Recutita) Flower Extract, Calendula Officinalis Flower Extract, Green Tea (Camellia Sinensis) Leaf Extract, Comfrey (Symphytum Officinale) Root Extract, Acrylates/c10-30 Alkyl Acrylate Crosspolymer, Disodium EDTA, Caprylyl Glycol, Methylisothiazolinone
7. Blue Tattoo Numbing Gel
$$$
I can see why this is praised across the globe by tattoo fans and is one of the leading tattoo brands on the market.
Blue Gel was created by Dermal Source, an anesthetic specialist based out of Oregon.
This numbing cream for tattoos combines all the vital ingredients to be a great product.
Not only does this product contain 4% lidocaine and 2% tetracaine, it also includes a vascular constrictor which helps reduce swelling, bruising and bleeding. ​
This particular anesthestic tattoo numbing gel is perfect for inner arms and lips because these areas of the body bruise and bleed easily.
​Unlike other anesthetic products, Blue Gel must be used on broken skin. Apply it sparingly and cover the skin with an occlusive dressing if required.
After about 5 minutes, rinse off the gel thoroughly and continue your procedure. This is important because you don't want the glycerin base to saturate the skin.
Never reapply Blue Gel to the same treatment area because this can damage your skin and affect the quality of the tattoo. Blue Gel works fast and should anaesthetise for skin for at least 2 hours.
Also, this GREAT product doesn't affect the tattoo colour or healing process.
Active Ingredients: Lidocaine 4%, Tetracaine 2%, and vasuclar constrictor to reduce swelling, bruising and bleeding
Common Questions About Numbing Cream:
Do you Apply Numbing Lotion Before You Get A Tattoo?
Can You buy Tattoo Numbing Cream Over The Counter?
What Is The Strongest Numbing Cream?
How Long Does Tattoo Numbing Cream Take To Work?
How Long Does Numbing Gel Last?
5 Additional Ways To Beat The Pain
There are a few things you can do beforehand to prepare for your inking. Here are five top tips to help you minimise the pain:
1. Avoid Alcohol
Avoid alcohol. Although it might seem like a good idea to arrive a little bit tipsy in order to numb the pain, it doesn't work.
Alcohol thins the blood, so you'll bleed more and the ink won't 'take' so readily.
Other substances act in a similar way, so you should also avoid:
Over-the counter painkillers that contain aspirin
Coffee
Drink plenty of water instead: your skin will accept the ink more easily if it's well hydrated.
2. Get a good night's sleep
Get a good night's sleep and eat a hearty breakfast.
Depending on the size and complexity of the tattoo, the session could last many hours, so you need energy and stamina to get you through it.
If you become exhausted, your body may not produce enough adrenaline and endorphins to help you block out the pain naturally and you may even begin to feel sick or dizzy.
3. Try a distraction technique
Try a distraction technique. Depending on your personality, you might prefer a Zen-like approach, using meditation or relaxation techniques to 'zone out'.
Clear your mind and focus on your breathing while still in the waiting room, and continue to stay calm and ignore the pain during the tattooing process.
Alternatively, you might find that conversation distracts you better; some tattooists enjoy talking to clients whilst working, but you could also take a friend with you.
Having someone to chat with will make the time pass more quickly and take your mind off the pain – just check that your tattoo artist is happy for you to take along a companion.
Another option is to take headphones and listen to music, podcasts or a talking book to help you relax and focus on something other than the pain.
4. Practise pain management
Practise pain management. Biting down on something or squeezing an object in your hand has been proven to help relieve pain, particularly during childbirth.
It's unlikely your tattoo is going to be quite as painful as that (!), but it's worth finding something that works for you and bringing it along to your appointment.
Stress balls
Hand grip exercisers
Protective mouthpiece (gum shield)
Chewing gum
Soft chewing sweets
Avoid anything that damage your teeth
5. Use an anaesthetic cream or gel
Also known as tattoo numbing cream. If you'd love to get some skin art but you're still worried about how you'll handle the pain, read on for all the info you need about numbing creams, how they work, and which one is right for you.
What Tattoo Artist Think About Numbing Gels and Creams?
First of all, it's important to know that some tattoo artists disapprove of tattoo numbing creams and will refuse to use them during their inking sessions.
This might seem surprising, as you'd think they would want their customers to be as comfortable as possible; however, there are many people amongst the tattooed community who believe that the pain is all part of the process of getting inked – a sort of rite of passage – and makes the experience more meaningful.
In some circles, enduring the pain also gives you bragging rights! If your tattooist subscribes to this opinion, then you're unlikely to persuade her or him to use an anaesthetic tattoo numbing cream, so you'll need to find an alternative tattoo shop.
There are also tattoo artists who simply believe that numbing products don't work that well. They may have tried them before with little success, so they are understandably reluctant to waste time and money on them.
Of course, if a new client has been prepped with a tattoo numbing cream and still complains that the tattooing is too painful, it's hard to know whether the cream has worked to reduce the level of pain, and the customer is simply very sensitive with a low pain threshold – or whether the cream had no effect at all!
They believe that the only safe and effective products are those that can only be sold legally by a pharmacy. Tattoo shops are not licensed to sell or use them.
The effectiveness of most numbing products begins to wear off as soon as it is cleaned from the skin – which must happen before tattooing can begin. By the time the skin is prepared and the stencil has been applied, the anaesthetic may be largely ineffective.
Most seriously, topical anaesthetics were developed and designed for medical procedures such as single injections, covering a small area of skin and permitting only a very small amount of the product to enter the bloodstream. During tattooing, a much larger area of skin may be involved, and the multiple skin puncture wounds allow much more of the substance to enter the bloodstream. This presents an increased risk of toxicity and potential side effects.
If you are keen to use a numbing product, you should check with your tattoo artist to make sure they are happy for you to do so, and ask for their recommendations on which products to use. Pharmacies in the US may or may not sell topical anaesthetics without a prescription, but they can usually be found online.
Tattoo numbing products temporarily anaesthetise the skin. There are three main types, which work in different ways according to the main active ingredient, or mix of ingredients.
Why does tattooing hurt?
Surely getting a tattoo should just tickle or tingle – after all, it's just like drawing on the skin, so why does it feel so painful?
The truth is that tattooing uses one or more needles to puncture the skin and inject ink just below the surface.
Modern electric tattoo machines drive the needles into the skin repeatedly, around 80 to 150 times a second, so it's not surprising that it can hurt.
To create a permanent tattoo, the ink has to be deep enough that it won't be washed away, but not so deep that it can't be seen.
That means it has to go beyond the epidermis, which is the surface layer of dead skin that regularly renews itself, and into the more stable layer below called the dermis. Unfortunately, the dermis contains the receptor cells that send pain signals to the brain!
When your skin is being 'injured' 80-150 times a second, the pain receptors send out a torrent of pain signals to the brain – making it a less than pleasant experience.
How Do Tattoo Numbing Creams Work?
There are three main types, which work in different ways according to the main active ingredient, or mix of ingredients.
Nerve deadeners - Lidocaine is a topical local anaesthetic that temporarily deadens the nerves in the skin to prevent them from registering pain.
As a widely available medication, it is used to relieve itchy skin conditions and pain and discomfort from scrapes, burns and insect bites, as well as minor medical procedures.
The higher the percentage of lidocaine in the product, the more effective it will be.
Although nerve deadeners work well, they don't penetrate below the surface of the skin, so they are not completely effective in preventing pain during tattooing. To increase its effectiveness, this type of product is often combined with a nerve blocker and/or a vasoconstrictor.
Nerve blockers –Tetracaine and benzocaine are also topical local anaesthetics, which work by allowing the nerves to register a low level of pain while preventing them from sending the signals to the brain.
Tetracaine is typically used to numb a specific part of the body before a medical test or procedure, while benzocaine may also be used to relieve pain in the nose, mouth and throat.
Used correctly, nerve blockers should take the pain level down from 'AAAARGHHH!!!' to 'Ow'; however, because they don't completely remove the sensation of pain, they are usually combined with nerve deadeners to prevent the customer from flinching involuntarily.
Vasoconstrictors – The most powerful and effective type of numbing products available are based on epinephrine, which is a vasoconstrictor that causes blood vessels to tighten.
Vasoconstrictors are more controversial than other numbing products; epinephrine can cause anxiety, raised heart rate and other side effects and should be used with caution.
As well as reducing bleeding, vasoconstrictors slow down absorption of other substances, which means that the effects of other numbing agents will last longer.
Products containing epinephrine can also be used throughout the tattoo session to reduce bleeding and swelling; for this reason, mixed numbing sprays that contain lidocaine and epinephrine – or lidocaine, tetracaine and epinephrine – are some of the most popular and effective around.
As well as the active ingredients listed above, you'll find that many numbing products contain various natural additives that enhance the effects of the anaesthetic, help reduce swelling and bruising and boost the healing process. Common ingredients include aloe, tea tree oil, menthol, camphor and comfrey root.
Which Tattoos Hurt The Most?
What's the worst place on your body to get a tattoo? Not all body parts are created equal when it comes to experiencing pain, so think carefully before deciding where to get that tat.
Least painful places
If you've ever wondered why so many people seem to get tattoos on their upper shoulders and lower back, it's because these are some of the least painful places to get inked.
Other good places to get your first tattoo include the upper arm and forearm, calf and buttocks, which are areas that have plenty of flesh - muscle or fat - or that simply have fewer nerve endings, which reduces the level of pain that you feel.
Most painful places
Conversely, areas with more nerve endings – including sensitive areas such as erogenous zones – and parts of the body where skin is stretched thinly over bone tend to be the most painful, even causing some customers to pass out!
If you're not sure your pain threshold can handle it, think very carefully before being tattooed on the head or neck, ribcage, spine, inner thigh, knees (back or front), ankles or feet. It's also wise to avoid any areas where you are especially ticklish, since that's a good indication that your skin is sensitive there.
It goes without saying that nipples, lips and genitals should probably be avoided – unless you're totally hard-core!
Tattoo Size
The size and type of tattoo that you choose also dictates how painful it's likely to be. Generally, a small, simple design will cause less discomfort than a large, complicated artwork.
A single-colour design takes less time, and will be less painful, than a multi-colour one, and designs that include areas of solid colour hurt more because the artist must go over the same skin a number of times
How and When to Apply Your Tattoo numbing creams?
Having agreed with your tattoo artist that you will use numbing products, and selected your cream, gel or spray, it's no good simply turning up for your tattoo session with no preparation.
Depending on the product you choose, it can take a while for your skin to absorb the active ingredients in a topical anaesthetic, so you won't feel the benefit for up to 60 minutes after application.
If your tattooist has told you how and when to apply your anaesthetic, you should follow their instructions.
Otherwise, read the instructions on the product packaging, any included leaflets and/or the manufacturer's website to ensure you know how to use it as effectively as possible.
Make sure you know exactly where the tattoo is going to be applied: if it's in an awkward-to-reach area, you might need to ask a friend to apply the product for you. If you do it in the mirror, make sure you don't get things reversed and end up anaesthetising the wrong buttock!
One recommended method to ensure you get the maximum benefit is to apply a thick layer of cream or gel to your skin, and then wrap it tightly in plastic cling film.
This is easier for hands, feet, arms and legs than for large areas of the torso but, if you can do it, it helps the skin to absorb as much of the product – and the active ingredients – as possible.
If you apply it after you arrive at the tattoo studio, you may have to wait anywhere from 15 to 60 minutes for the product to work its magic, so it's best to do it at home if possible.
Once the initial anaesthetic has taken effect, your tattooist will clean the product off your skin. They may use another numbing product, such as a pain-relieving soap, to help reinforce the effects of the first product.
There are a number of antiseptic skin cleansers available that contain lidocaine to intensify the numbing effect of any topical anaesthetic applied earlier.
Finally, you're ready to begin! Hopefully, with all that careful preparation, you won't experience more than a little discomfort – but if you do, there is one more way to help beat the pain.
Your tattoo artist can apply another type of product, in the form of a gel or spray that is suitable for broken skin and can therefore be applied during the inking process.
These products are designed to work almost immediately – typically within 90 seconds to 5 minutes – and can be reapplied as needed during the session. Because this type of product is not long lasting, if you're having a large design inked you may need a number of re-applications to boost the level of pain relief throughout the day.
Best advice ever?
Good luck getting your next – or first – tattoo. This guide should help you enjoy the experience without too much discomfort, but remember: Whatever you do, sometimes it will hurt – just try not to mind that it hurts!