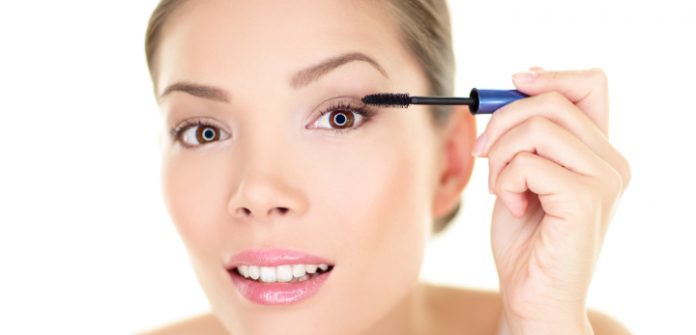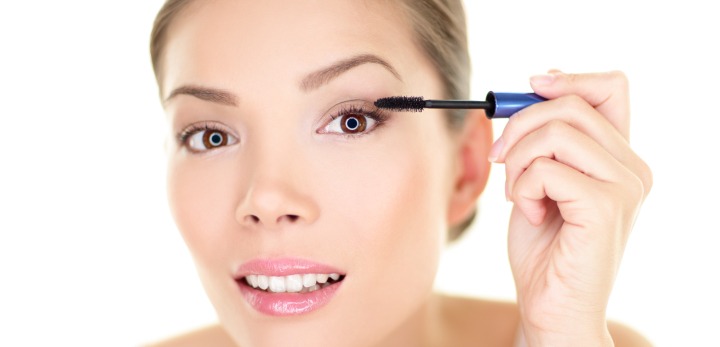 I swear, a single swipe of mascara turns me into a new woman. I'm confident, fearless, and ready to take on the day. But sometimes, my mascara leaves my eyes red, irritated, and itching.
If this happens to you too, you're in luck because I've found the secret. What we ladies need is a little hypoallergenic mascara. Any mascara that doesn't qualify as such in your makeup drawer should be thrown away. Go ahead, I'll wait.
Done?
Then let's discuss hypoallergenic eye makeup and why you should always be using it, along with some makeup tips for sensitive skin.
Quick Comparison
1. Mia Adora 3D Fiber Lash Mascara
$$$
I had never used a 3D mascara before this one. It's a two tube process that left me with amazingly long lashes that were dark but not overwhelming.
It's a little tricky to get used to, but once you get the process down, you'll have trouble switching back to a regular mascara (2D is so last season). If your lashes are short or sparse, 3D is the way to go.
2. Reviva Labs
$
My eyes really popped with this mascara. It was gentle and tear proof, and actually thickened my lashes without any clumping.
The mascara includes fibers that lengthen lashes. Both the mascara and fibers are made from a hypoallergenic formula, so there's no fear of redness or irritation.
This has become my go-to mascara for work meetings and first dates because of how reliable it is. If you're looking for the best mascara for sensitive eyes, this is a major contender.
3. Maybelline Lash Discovery Washable Mascara
$
If black isn't your shade, this brownish-black color will do just fine. It's safe for contact lens wearers and is made from a hypoallergenic formula.
One of my friends is a makeup artist and works with all types of professional and expensive brands. She was blown away by the quality of this mascara and even wears it herself now.
4. L'Oreal Paris Bare Naturale Mineral-Enriched Mascara
$$$
If your lashes are in need of a little nourishment, this is the mascara for you.
It's made in Paris and includes everything you think a mascara from the center of the fashion world would have.
The hypoallergenic formula includes aloe, vitamin E and jojoba oil. Your lashes will look great with it on and be healthier when you take it off.
5. Lash Factory InstaLash One-Step 3D Mascara
$$
The 3D look is amazing, but with the additional step, there are some mornings that leave me so pressed for time I end up going with a more basic mascara.
Ready for the solution? Lash Factory Instalash gives you the 3D look with a single step. I never noticed any flaking and loved that this mascara is non-toxic and never tested on animals.
6. Almay One Coat Nourishing Mascara
$
Almay is one of my favorite makeup brands. Their prices are affordable and the quality is great, so I knew I had to try Almay One Coat Nourishing Lengthening Mascara.
They didn't disappoint with this mascara. My lashes were fuller, longer, and curvier. It also only took one coat to get the dramatic look I was after. I always keep this mascara in my purse for when I need to bump up my makeup game in a flash.
7. Almay One Coat Thickening Mascara
$
Here's a waterproof mascara that's actually hypoallergenic and ophthalmologist tested.
I decided to give this mascara the ultimate test and applied some before heading to a beach party.
After a full afternoon on the beach in the hot sun, including a few hours splashing in the ocean, my mascara stayed put and looked great!
This might just be the best waterproof mascara for sensitive eyes.
8. Covergirl Volume Exact Definition + Volume Mascara
$$$
One of my biggest mascara pet peeves is clumping.
I hate when I put on mascara and it looks like I have just one giant eyelash, so I was really impressed with this mascara.
It seemed to define each lash, and they all looked longer and fuller.
The formula is hypoallergenic and includes vitamins that condition and nourish my lashes. It's safe for sensitive eyes and contact lens wearers, plus the color is fabulous.
9. Skin2Spirit Mineral Mascara
$$$
I'm always looking for a mascara that really stays put, so I was excited by my results with Skin2Spirit.
I had absolutely no clumping and was able to build volume as needed. I would start with a single coat in the morning before work, but if I was headed out at the end of the day for drinks with a few friends, I would add another coat or two for the perfect night-time look.
The formula is completely natural and botanical and will leave you feeling good about your mascara choice. It's not completely waterproof, but it still stays put fairly well and comes off easily with just a little soap and water.
10 . Almay One Coat Thickening Mascara - 2 Pack
$$
This is a really great deal on an amazing product. The first time I applied it, I accidently got a little in my eye.
I braced myself for the inevitable burn that I've always experienced when I do this, but to my surprise, nothing happened!
I rinsed my eye and started applying my makeup again. I knew that I would be able to wear this makeup on a daily basis, without having to worry about a sudden reaction.
What Is a Hypoallergenic Mascara?
Hypoallergenic eye makeup, including mascara and hypoallergenic eyeliner, is made with ingredients that are less likely to cause allergic reactions or irritation. If you've ever noticed that your eyes itch or turn red on days when you wear eye makeup, hypoallergenic makeup could be the change you need to make.
While irritation from your makeup isn't likely to cause any lifelong issues, it's annoying and can even be painful. But you don't need to stop wearing makeup. There are plenty of options available.
It took me a few tries before I found the mascara that worked for me, but you're sure to find one with time.
What Causes Sensitive Eyes?
If you suffer from sensitive eyes, there are several culprits that could be to blame. By narrowing down your possible causes, you can take the right steps toward preventing sensitive eyes.
Injury
If you've injured your eye, you might experience redness, watering, and blurred vision. You should always seek medical attention if you suspect an injury to avoid permanent damage.
If you wear contacts and suspect an injury, stop wearing them immediately. If a liquid substance has entered your eye, flush it immediately.
Allergies
When the seasons change, allergies run rampant. A runny nose isn't the only sign of an allergy to pollen or dust.
Watery and itchy eyes are a common side effect. It's not uncommon to develop allergies as you age or after moving to a new location. If you suspect allergies, you can either ride them out or try an over-the-counter antihistamine.
Reactions
It's no secret that our eyes are incredibly sensitive. An ingredient that might not bother your skin could have an effect on your eyes.
You might be able to get away with using any type of foundation or powder you like but suddenly have an issue with eyeliner or mascara. Because of its close proximity to your eyes, hypoallergenic makeup is a great idea for anyone, but especially those who experience redness, itchiness, or irritation after applying eye makeup.
How Do I Know if I'm Allergic to Any Makeup or Mascara?
Makeup, especially eye makeup, can be full of preservatives, fragrances, and other ingredients that can ruin your perfect smoky-eye look in a flash, thanks to allergic reactions. Knowing the signs is the first step to preventing a reaction in the first place.
Rash
If you notice any small white or red bumps around your eye, there's a good chance your eye makeup is to blame. The rash will often itch, but do your best not to scratch it so you don't irritate the area even more.
Swelling
It's not hard to notice swelling around the eye. If the swelling is mild, you can probably wait for it to die down on its own. But if the swelling is severe, you may need a cold compress to help bring it down.
Allergic Conjunctivitis
This is a more serious eye allergic reaction that can occur if your mascara, eye shadow, or eyeliner come into direct contact with the surface of your eye. Signs of the reaction include itching, tearing, redness, or a thick discharge.
In severe cases, sensitivity to light is a symptom as well. If you suspect allergic conjunctivitis, remove your eye makeup and call your doctor to see if an appointment is necessary.
Is It Okay to Use Waterproof Mascara for Sensitive Eyes?
Many waterproof mascaras can cause irritation in those with sensitive eyes. Because of this, it's not recommended to use waterproof mascara.
But there are hypoallergenic versions on the market that might be able to give you the waterproof lashes you want without the irritation. It's more important to focus on finding the best mascara for sensitive eyes first, then see if there's a waterproof version available.
Are There Any Ingredients in Mascara (Or Makeup) I Should Avoid if I Have Sensitive Eyes?
You'll definitely need to do a little research on the ingredients in your makeup, because most companies use generic terms. Sometimes they even hide the list of ingredients so well that an investigative reporter is needed to track them down.
Keep in mind that a makeup you've been using for years can suddenly cause a reaction, so don't assume that an ingredient you've used in the past is still safe.
Here are some basic types of ingredients to look out for:
Scents
Fragrances are no stranger to makeup, including eye makeup. But because they're usually man-made and contain a ton of crazy compounds, they often cause irritation.
It's actually possible to have sensitive skin and fragrance-sensitive skin, making hypoallergenic mascara even more of a necessity.
Preservatives
While we appreciate preservatives because they can make our expensive tube of mascara last longer, they can also leave us with red and irritated eyes. If there's one preservative you should look out for, it's methylisothiazolinone. Nearly 10% of people are allergic to it. Yikes!
Colorant
This one is going to be tricky to avoid. Dyes are common allergens, but it's hard to find naturally-colored eye shadow and mascara. Do your best to find products with no added coloring or ones that use natural dyes.
Phthalates
You're more likely to find this material in the container holding your makeup, but it can be included in the makeup as well. It's been linked to mild allergies and irritation but also more serious conditions, like asthma and even neural and psychological issues.
In general, if a makeup ingredient sounds unnatural and scary, you should do your best to avoid it. It is possible for makeup to be made with natural and/or friendly ingredients that won't put your happiness and health at risk.
Any Tips for Applying Mascara to Sensitive Eyes?
Yes! Just because you have sensitive eyes doesn't mean you have to go the rest of your life with naked lashes. It's completely possible to enjoy the look mascara for sensitive eyes gives you without the irritation.
Here are a few fast tips for a better mascara experience:
Stick with Black
Those fancy colors might be in style, but stick with a basic black or dark brown shade. The less dye in your mascara, the better. If your eyelashes are pretty dark on their own, you can even go with a clear mascara just to give you a little length and definition.
Avoid Waterproof
As previously mentioned, waterproof mascaras can be harsher on the eye. Unless you've found a hypoallergenic version that really is waterproof, stick with the regular strength and try to avoid excess moisture, whether from a pool, a rainstorm, or crying during a sad movie.
Be Gentle
Don't listen to the makeup experts. You don't have to cover every tiny speck of your eyelashes for a glamorous look. If you stretch your eyelid and really try to get the mascara all the way to the beginning portions of your eyelashes, it's much more likely that irritation will occur, simply because of how close the product is to your actual eyeball.
Replace It
Mascara should be replaced every three to six months. Eyeshadows can last a bit longer, up to two years, while eyeliner has a shelf life of up to five years, but only if it's the pencil variety. A liquid eyeliner lasts about the same length as a mascara.
Always Remove It
Never go to sleep with your eye makeup on! Not only is this bad for your skin, you're more likely to develop irritation and early signs of aging. Take the extra minute or two to gently—yet thoroughly—remove your eye makeup at night, and you'll be less likely to wake up with puffy or red eyes in the morning.
What's the Best Way to Remove Mascara?
I have a few different ways to remove hypoallergenic mascara. Try them all out and see which works best for you. The less you have to scrub to remove your mascara, the less chance there is of it getting into your eyes and causing a reaction.
Coconut Oil
Rub a little coconut oil between your fingertips and gently wipe the oil across your eyes. This should quickly remove your eye makeup while moisturizing your skin at the same time.
Use a Makeup Remover
There are several over-the-counter makeup removers you can try. Make sure you find a gentle and fragrance-free product that's made for tough eye makeup. If you're using waterproof mascara, make sure the product includes some type of oil so you don't have to scrub.
Use a Makeup Pad
Whether you're using an oil, a makeup remover, or just a little soap and water, always use a makeup pad. Using a cotton ball can leave behind fibers in your lashes which can end up in your eyes.
Moisten the pad with your choice of product and hold it on your eyes for about 20 seconds. Don't pull or tug. Instead, just let the product work its magic.
Next, take the makeup pad and gently wipe in a downward motion. Never go in circles or scrub. Finish up by washing your face with a gentle cleanser and applying moisturizer.
We all love the look of mascara, but some of us have more trouble wearing it than others. If you've given up on mascara because of previous reactions, there's hope!
Hypoallergenic mascara can give you the bold lash look you're after without the itch, redness, or irritation.
Pick yourself up some mascara for sensitive eyes, along with the best hypoallergenic eyeliner you can find, and you'll be batting those eyelashes in no time.