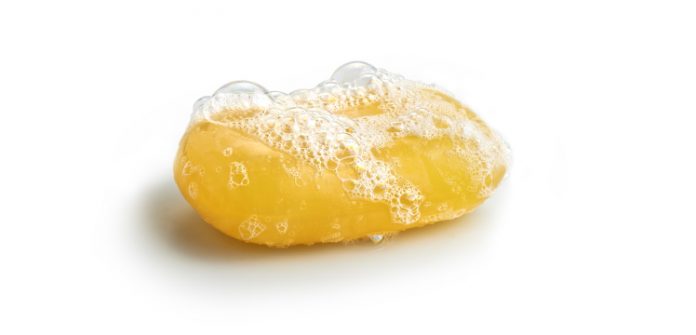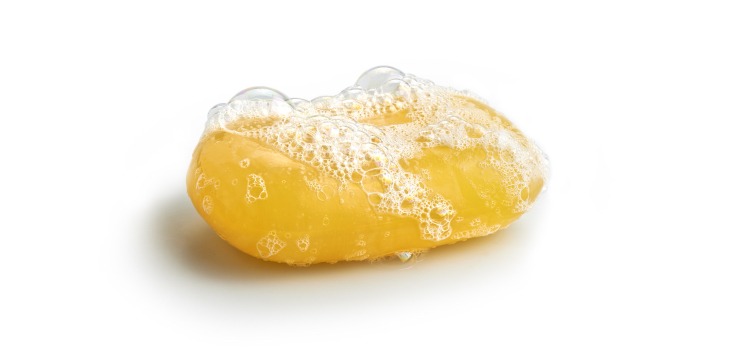 Wouldn't you think that all soaps are made with skin health in mind? I know I did.
So I was surprised to learn that some brands use some very harsh ingredients in their soaps. I realized that this was probably why my skin was so dry and irritated all the time.
I used to think this was just how my skin was. I had accepted the situation, but once I heard about hypoallergenic soap, I decided it was worth a shot.
If you want to learn more about soap for sensitive skin, stay tuned. I'll go over everything you need to know and leave you in control of what ingredients you're putting on your skin.
Quick Comparison
1. Dove Beauty Bar
$$
The Dove Beauty Bar is of course hypoallergenic, but it's unscented formula is also great for sensitive skin, making it one the best hypoallergenic bar soap.
This soap is dermatologist and pediatrician recommended. It includes a moisturizing cream and mild cleansers, which help your skin to maintain its natural moisture.
You'll find that it leaves your skin softer and smoother than ordinary soap.
After just a couple of showers with this soap, I found that my usually dry legs were beginning to regain their moisture again. It took less than a week for me to realize that this was a great bar soap that could be used on a daily basis.
2. Puracy Natural Body Wash
$$$
Here's a great hypoallergenic liquid soap that's perfect for quick showers and won't dry out your skin.
The coconut-based cleansers form a rich and luxurious foam that gets you clean and smelling great in a flash.
The added sea salt helps to purify and balance skin, and with only natural preservatives included, you'll rest easy knowing you're doing your skin a favor.
I loved the smell of this body wash. It made me feel like I was using my favorite brand from a store in the mall, but without all the harsh ingredients. The fragrance is light and airy and makes me feel like I've spent the day at the beach.
3. Cetaphil Gentle Cleansing Bar
$$$
Here's another great bar soap that's gentle and non-irritating, making it another fantastic soap for sensitive skin.
There are also no fragrances, and the hypoallergenic formula makes it an excellent choice for the entire family.
If you're looking for the best hypoallergenic soap for babies, this could be the one for you.
I usually don't like bar soap because of the film it often leaves behind. But this one doesn't do that. Instead, my skin felt soft and smooth after using it.
The scent is light and clean, and for a hypoallergenic option, the lather is quite impressive. You won't feel like you're missing out on anything with this soap.
4. Tom's of Maine Natural Moisturizing Bar Sensitive with Chamomile
$$
Tom's of Maine is known for their natural products that provide results, and this pack of bar soap is no exception.
You'll love the addition of chamomile. The olive oil and vitamin E help moisturize your skin like most bar soaps can't.
If you're all about using the best natural soap but don't have the time or resources to make your own, this is the next best thing. This is about the moisturizing bar, but I've also tried their sensitive and relaxing versions with similar results.
This bar soap is a must try for the entire family!
5. Basis Sensitive Skin Bar
$$
Looking for a spa-like experience in a bar? That's exactly what you'll get with the Basis Sensitive Skin Bar.
It's filled with natural calming agents like chamomile and aloe vera that soothe and comfort skin while relaxing the body with their aromatherapy benefits. I liked how cleanly this soap rinsed off my body.
My skin felt smooth and seemed to glow. I've been using this bar soap to wash my face at night with great results.
My bouts with acne have pretty much stopped, and my skin looks fresher and younger than it has in years. If you don't want to use a bar soap in the shower, at least try it for your face at night.
6. Aveeno Skin Relief Fragrance Free Body Wash
$
I love just about everything Aveeno makes, so I was excited to try their body wash.
It's possibly the best hypoallergenic soap for eczema on the market.
It gently cleanses and moisturizes and it soothed my dry, itchy skin in just a few days.
The price is a steal, and I loved that one of the ingredients was oats. I really think this is the secret miracle ingredient that helped my dry skin.
It's said that oat proteins leave a protective barrier on the skin, which helps to seal in moisture for hours after you exit the shower. I definitely noticed a difference, and my soft skin lasted all day.
7. Wet Shaving Products Hypoallergenic Luxury Rustic Shaving Soap
$$
You're not supposed to, but I sometimes use soap lather as a shaving cream.
Unfortunately, I know that this is dulling my blade and sucking moisture out of my skin.
So I was excited to see this shaving soap. It's a natural vegan soap that's gentle on the skin and free of synthetic dyes and preservatives.
I found that it built up a fast lather and really helped me get a closer shave without compromising moisture.
The tin seemed to last forever, too. I've stopped using it as a regular soap, but I don't think I'll ever go back to shaving cream now that I've found Wet Shaving Products' shaving soap.
8. Dial Basics Hypoallergenic Dermatologist Tested Bar Soap
$$
Even hypoallergenic soaps can be a little too fancy for my taste.
So if you're looking for a simple and basic soap for sensitive skin, this is it.
I loved the smell of this soap. It was clean, yet crisp. I've used this bar soap in the shower and for washing my hands. Either way, my skin feels clean and moisturized after I use it.
If you want to steer clear of additives and keep things as simple as you can, give Dial Basics a try.
9. Neutrogena Transparent Facial Bar
$
Sometimes a soap that works great for our body doesn't always work for our face.
That's why Neutrogena came up with a facial bar that's hypoallergenic and noncomedogenic.
It rinses clean and helps keep your skin free of breakouts and blemishes. It's for all skin types and can be used twice a day without irritation or redness.
This soap lathers nicely, and I felt like my face was completely clean after each use.
I've used harsh cleansers in the past, never thinking that a bar soap could do the trick. Now I know better.
10 . Alivio Vital Neutral Soap - Hypoallergenic
$$
I found this to be the best hypoallergenic hand soap that I've used.
If you find yourself reaching for hand sanitizer instead of actually washing your hands because of bad results from previous soaps, give Alivio a try.
It's recommended for skin that is usually allergic to other soaps. It cleans deeply and softens without irritating.
I keep a bar on my kitchen sink and use it to wash my hands before, during, and after meal prep. My hands have never looked better and I know I'm doing my part to keep my kitchen sanitary.
What Is a Hypoallergenic Soap?
Not all soaps are created equal. When you use a hypoallergenic soap, you are using one that has been made without ingredients known to cause allergic reactions or skin irritation.
A good hypoallergenic soap should have no known allergens, like essential oils or fragrances, and should contain only natural ingredients.
Unfortunately, there is very little regulation over what is and what isn't hypoallergenic. That's why, as a consumer, you need to do a bit of research to find out which brand is best for you and your family.
Why Do Some Soaps Irritate Your Skin?
There are hundreds of different brands of soap. All of them have a slight variation in their chemical makeup.
That's why one soap will work perfectly for you and another will cause irritation. The same soap that bothered your skin might not bother someone else's.
If you do come across a soap that causes you irritation, it's best to stop using it immediately. There is an ingredient in that particular brand that your skin doesn't agree with.
Before you blame the soap though, make sure there are no other factors. Dry weather, excessive heat, and windy conditions can all irritate skin. Make sure you're confident that the soap is to blame for your irritation.
How to Check if You Are Allergic to Soap
Not sure if you're allergic to soap? Keep a lookout for these common symptoms.
Skin Irritation
This is the most obvious sign. If you find that your skin is irritated after using a specific soap, stop using it for a few days.
Once the irritation is gone, try the soap again. If the irritation returns, you are most likely allergic to the soap.
Itching
If your skin immediately begins to itch after using a certain soap, there is a high chance of an existing allergy. Do your best not to scratch the area. Keep it moisturized and it should go away on its own.
Burning
Burning skin is a sure sign of an allergy when it comes to soap. Using soap should never be painful, so if the burning is excessive, cool the area with a cool washcloth and do your best to prevent further irritation.
What Soap Ingredients to Avoid if You Have Sensitive Skin
Have you ever looked at the label on a bottle of soap? It's usually crazy long and contains a bunch of ingredients that you can't pronounce.
If your soap has any of the following ingredients, you might want to seek out the best natural soap.
Triclosan
This is a pesticide often found in soap because of its ability to eliminate dangerous bacteria. But unfortunately, it encourages antibiotic resistance and can dangerously fluctuate hormone levels.
Formaldehyde
This toxic ingredient weakens the immune system and has been linked to respiratory disorders, headaches, and chronic fatigue.
Parabens
I'm sure you've heard of parabens. They're often added to a wide variety of beauty products. They're essentially preservatives, but clinical studies have shown a link between repeated paraben exposure and breast cancer in women.
Sodium Laurel Sulfate
This is a common soap ingredient because it helps to create the suds we all expect from soap. Unfortunately, it's able to penetrate skin easily, leaving it open to other chemicals. It has been linked to skin irritation and hormonal disruptions.
Yikes! Take a look at your current soap. Does it contain any of these toxic ingredients?
If you do find that you're allergic to soap, consider getting a hypoallergenic shampoo as well.
How to Choose the Right Hypoallergenic Soap for Your Skin Type
Using a hypoallergenic soap is a wise choice. But just because you've decided to go hypoallergenic, it doesn't mean that you don't still have plenty of options!
Take a look at the following tips and suggestions for different skin types.
For Oily Skin
Look for a soap with salicylic acid or benzoyl peroxide. These ingredients can help control oil and prevent breakouts.
For Dry Skin
Look for soaps with moisturizing ingredients like shea butter or glycerin. They'll add moisture without clogging pores.
For Sensitive Skin
You definitely want to use a hypoallergenic soap, but also look for those marked organic.
If you have normal skin, you have plenty of options. Even when using a hypoallergenic product, you still have your choice of scents and textures.
What to Do if You Have a Reaction
If you do notice a reaction when using soap, stop using it immediately. Keep the area moisturized, but don't over irritate it.
If necessary, use an antibacterial ointment to soothe the skin. In rare cases, the irritation may worsen. If this happens, seek medical attention.
It's not uncommon to be allergic to soaps and other beauty products. Luckily, there are options on the market that will help you avoid irritation and discomfort.
Ready to pick up some hypoallergenic hand soap?
You won't be disappointed. I know that filling my home with hypoallergenic products has improved the health of my family and given me peace of mind.
Don't put off taking care of your skin any longer. Once you start to enjoy hypoallergenic soap benefits, you'll wonder why you ever waited so long!