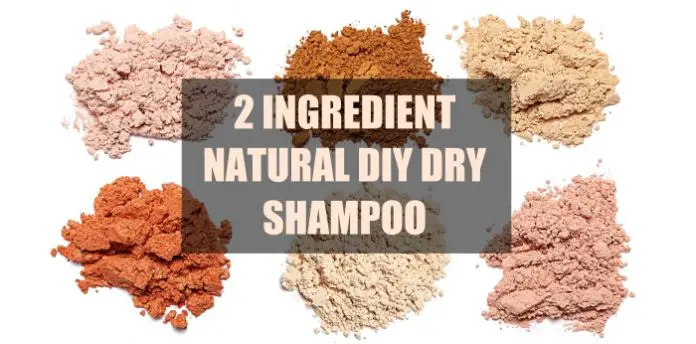 There's no need to wash your hair every day.
In fact, washing your hair on a daily basis can leave it damaged and more susceptible to breakage.
But if your hair gets greasy overnight or after a long day, what are you supposed to do?
Well, why not try a DIY dry shampoo to keep your hair looking fresh and clean.
We have created an awesome infographic below for a natural 2 ingredient recipe which will help make your life a little bit easier.
Why Use a Dry Shampoo?
We all want our hair to look fresh and smell great at all times.
But washing every day can strip hair of natural, healthy oils that it needs to remain healthy.
So instead of hopping in the shower every day and lathering up, you can use a DIY shampoo to remove:-
Without leaving your hair dry or brittle.
Also Checkout: We Review All The Best Hypoallergenic Shampoos
How It Works
All dry shampoo products, whether store bought or homemade, serve the same purpose. Their ingredients are designed to absorb oil quickly and efficiently.
In homemade products, the starch soaks up grease and excess oil. In store bought products, an alcohol is usually what soaks up the excess oil.
Store bought products also contain drying agents to counteract the liquids being sprayed into your hair.
Why Go Natural?
While over the counter products are convenient and simple to use, they come with a long list of unnecessary ingredients.
Some contain butane, isobutane, propane, or other gases that, even though have been deemed safe by panels and studies, are not ingredients you want to freely apply to your hair or scalp.
Almost all oil-absorbing products have fragrance, which is a blanket term for hundreds of ingredients. Without knowing which or how many are in the product, there's no way to know the possible side effects you could experience while using the product.
Just as with many other situations, going natural is best. You'll know exactly what's going on your body, control ratios, and protect your hair.
How to Apply
Once you have your favorite homemade dry hair cleanser made (be sure to try my two-ingredient recipe), applying the hair powder is simple. Here's how:
Make sure your dry hair powder is mixed thoroughly.
Either use a makeup brush to apply the mixture where needed or sprinkle on with your fingers. Focus on getting the mixture on hair roots and other areas where grease tends to accumulate.
Using your fingertips, gently spread the powder throughout your hair. Massage roots to ensure absorption.
​Gently brush excess powder out.
Style as desired.
This can be repeated daily. If your hair is excessively greasy, you can even make your own dry hair cleanser in an easy-to-carry container for quick touch-ups on the go.
How Often Should I Use Homemade Dry Shampoo?
You should use your homemade hair powder as needed.
If your hair doesn't tend to look greasy until the third or fourth day after your last washing, you don't need to use it before then.
Remember that the solution will soak up oil, so if your hair isn't oily, you could be doing the same damage as washing by removing oil that your hair needs to remain moisturized and healthy.
It's also important to remember that a little goes a long way. Whether you use your dry hair powder daily, several times a day, or once a week, don't overdo the application.
If you do find that your hair is beginning to dry out or just not look as healthy, you can try a Keratin treatment to bring your hair back to a healthier state.
Can Using DIY Dry Shampoo Be Bad for Your Hair?
If used excessively or used to replace shampooing all together, yes, DIY dry shampoo can be bad for your hair. Even though it absorbs excess grease, it can remove too much of the good and healthy oil.
If used excessively, it can also clog hair follicles as it sits on the scalp. Clogged hair follicles lead to thinner hair and an overall dip in shine, volume, and health.
If you already use over the counter oil absorbing products or have been curious about homemade versions, I urge you to give my two-ingredient DIY dry shampoo recipe a try.
It's a great alternative to the ingredients found in over the counter products yet still absorbs oil and helps extend time between washes. When used correctly, homemade dry shampoo can improve the appearance and health of your hair while saving you time and money.
Give it a try – you'll love shampooing without water!