Hair has played a significant role in the history and social evolution of humans. It has been vital that it plays a major role in every society's culture, norms, and beliefs.
Going to the hair salon to get your hair done is a known rite of passage for every girl and boy, although girls take hair-care to a different level. Boys also indulge and enjoy the intense feeling of achievement and extreme freshness gotten after a visit to the barbershop or salon.
Yes, having hair is important, but hair treatment and styling are the processes that determine if a person is a working member of the society or just another misplaced caveman.
Hair is a simple structure found on various living things. It is made up of a tough protein called Keratin. Hair follicles attach each strand of hair to the skin and keep them in place. The hair bulb contains living cells which divide and grow to build the hair shaft. Blood vessels underneath the skin deliver hormones that nourish and modify hair growth.
Different hair types exist. A person can want to go from having big curly hair to straight, long hair. This can be achieved by pressing, relaxing and ironing, smoothening, re-bonding, e.t.c. This often causes damage to hair strands. Fortunately, there are various healthier methods used to straighten hair.
What Is Keratin Treatment?
Keratin is a protein found naturally in hair. Keratin forms a protective shield around hair shafts which keeps hair elastic and strong. Keratin depletes due to heat, over-styling, and other damaging processes.
Keratin treatment has become the general name used to refer to all hair straightening treatments which is incorrect. You either have the traditional keratin treatment that straightens out hair or you have the Professional keratin treatment that helps de-frizz and add shine to hair while keeping the natural hair texture. The different types of keratin treatment greatly determine the hair's result after usage.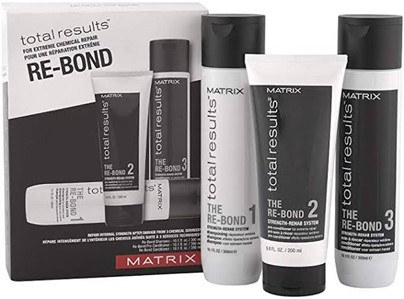 How Do You Use Keratin Treatment At Home?
Keratin treatment takes a couple of hours to complete when done professionally, but at home it takes fewer hours to change hair from that curly mess into a sleek, glossy wonder.
Shampoo your hair: use a quality keratin shampoo to wash your hair. It is advised to wash twice if you have straight hair and thrice if your locks are naturally very curly.
Do not use a conditioner and ensure the hair is thoroughly rinsed before moving to the next step.
Deeply massage treatment into your hair: leave some moisture in your hair after softly drying it. The moisture helps the keratin to be properly absorbed. Apply the keratin from the tips up. Always leave and inch of hair from the scalp down keratin-free before massaging the rest of your hair deeply with the product.
Rinse your hair: Rinse your hair with warm water. Ensure traces of the product are all washed out because unwashed particles may cause build-up and dandruff.
Blow dry and iron your hair: Blow dry your hair till it's completely dry create small sections then lock the keratin in by ironing the sections. Refrain from ironing large sections in order to prevent the heat from being applied unevenly.
Be patient: For the keratin to work its magic, it is advised to leave it in for 48 hours. Do not tie your hair or tuck it behind your ear. Just leave it down.
Shampoo again and then condition: After the 48 hours have gone by, wash your hair out with a keratin shampoo and conditioner, then blowout.
Pros:

It strengthens hair by repairing damaged strands, removing frizz, and preventing breakage.
It makes styling of hair so much easier and faster.
Styling of straight hairstyles is less expensive.
Keratin makes hair softer and shinier, giving hair that effortless glow look.
Cons:

Cleansing of hair immediately after a keratin treatment is a big no no. You must wait for two days before cleansing which could cause build-up in your scalp and odors that are less than pleasant.
Keratin upkeep can be expensive because it requires touching up every couple of months.
When used long-term, Keratin can cause the very damage it was meant to prevent. It destroys the hair cuticle and as we all know, that's no good.
Differentiating between the various existing hair treatment methods can be quite difficult. This isn't made any easier by professional stylists who often mistake one hair treatment for another. It is common for Keratin treatment to be mistaken for hair smoothening (Brazilian blowout), when they are absolutely different processes. The same thing happens with rebonding and keratin treatment.
Hair smoothening or straightening treatment, commonly called the "Brazilian Blowout" is actually a brand name using a registered trademark. Salons use the name to describe and advertise the different smoothing services they offer, regardless of the formula being used. This is where most of the confusion arises from.
What is the difference Between Keratin Treatment and Smoothening?
Brazilian blowout aims to make hair frizz-free while maintaining volume and movement. It is suitable for use when other hair straightening treatments have been applied previously, particularly with fine to medium hair textures or slightly curly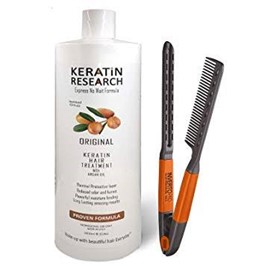 hair type. This is mainly what differentiates it from keratin hair treatment.
Another significant difference between Keratin hair treatment and smoothening is the procedure in which they use. With keratin treatment, the whole process can take more than 3 days to be correctly completed, while Brazilian blowout process takes only about 1 to 2 hours in a salon.
Brazilian blowout produces a different result for different hair types. Follow it and your hair will be frizz-free, less straight and sleek unlike that of keratin which leaves hair much smoother, glossier and lesser in volume.
How Do You Smoothen Hair?
Shampoo hair: wash your hair with a keratin shampoo. Ensure there are no traces of the shampoo left before drying it gently with a towel. Leave some moisture in to aid in the absorption of the product.
Apply the product: Divide your hair into sections then coat its cuticle with a high dose of amino acids, creating a protective layer around the cuticle that helps smooth out the frizz. Keep in hair for 15 to 60 minutes.
Blowout: after applying the amino acids evenly, blow each section dry.
Flat iron: flat iron the sections in order to seal the product in. After this, rinse the hair and dry it again.
Pros

Smoothens and de-frizzes hair
It strengthens hair protein composition. This helps to ward off breakage.
It's a safe method of smoothening and straightening color treated hair.
Smoothening hair leaves the hair with a protective barrier against environmental factors that could damage it.
Makes styling and managing so much easier.
Cons

Smoothening hair is not a permanent hair straightening treatment, unlike the Japanese treatment.
Treatments with formaldehyde may threaten the health of your hair.
It is expensive. One has to redo the procedure every three months due to the smoothing effect isn't permanent.
Re-Bonding
This is a type of hair treatment process where the structural bonds of hair are changed without altering the structure of the hair at an internal level the way keratin does. Here, the hair shaft is altered and rearranged by chemically breaking down the hair structure to form new bonds.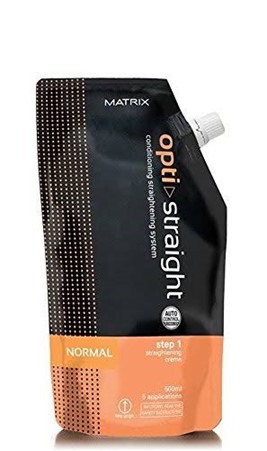 Difference Rebonding and Smoothening
Longevity: Smoothening involves only the outer layer, so the effect of the product starts to fade after some time. Whereas, rebonding lasts longer because the hair's structure has been permanently altered.
Effect: Re-bonding focuses on just straightening hair while smoothing involves de-frizzing hair and making it soft and smooth.
Damage: Smoothing hair is less damaging to hair than rebonding because it uses less abrasive chemicals.
Hair types: Re-bonding works extremely well with naturally curly, voluminous, kinky and unmanageable hair types. Smoothening on the other hand works better with slightly curly hair and not kinky hair.
Healthy Hair: Re-bonding completely alters the bonds that hold cuticles together, while smoothening straightens hair strands without doing much damage to the hair structure.
Which Is Best Between Keratin or Re-Bonding?
Re-bonding is commonly done in places with hot weather conditions. For example; in Dubai it isn't unusual to see women who re-bond their hair. The intense heat in Dubai causes hair to frizz more than usual, making it difficult to manage or style.

While heat depletes Keratin in hair, so it's preferably to use in cold weather conditions. One cannot compare these two hair treatments accurately because they are used for different hair types and climate is a huge determining factor.
Conclusion
There are a lot of hair treatments available in this modern age. Choosing the right treatment for your hair can make life just a little less difficult and build your confidence to new heights. This all relies on picking the perfect treatment for your hair type, so It is advisable to always seek professional help before temporarily or permanently treating your hair because any small mistake can lead to terrible consequences.