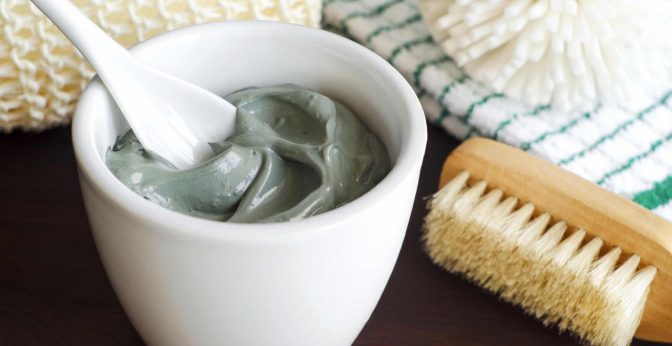 Have you heard of Bentonite clay for hair?
Looking for a natural way to care for your hair?
Do we have a treat for you!
Bentonite clay is a naturally made material that has been used as a healing clay for centuries.
It has only recently begun to gain the attention of the masses in the U.S. and Europe but history tells us quite a bit of this amazing substance.
The clay was first discovered in France in a region known as Montmorillonite. Many know it as Montmorillonite clay.
Quick Comparison Of The Best Clays
| No. | Bentonite Clay  | Editor Rating | Price |
| --- | --- | --- | --- |
| | | | $$ |
| 2 | | | $ |
| 3 | | | $ |
| 4 | | | $ |
| 5 | | | $$ |
Today, the clay is harvested in the U.S., Italy and France. It is composed of ash produced from volcanos.
The largest source of the clay is surprisingly located in Fort Benton, Wyoming.
Bentonite clay for natural hair could be just what you need. Read on to learn just how this product can promote hair growth, stop hair loss, detox your hair after years of damage and overall, change your hair for the better.
Bentonite Clay for Natural Hair
Many people are starting to take on natural hair regimens in an effort to avoid manmade chemicals in store bought shampoo and conditioner.
It may sound counterproductive but you can use a clay to effectively clean your hair.
In just a few minutes, you can whip up a homemade shampoo with Bentonite clay for natural hair that will leave your hair fresh and clean.
Just one word of caution-do not leave the shampoo on for too long or you can seriously dry out your hair.
You can use water but apple cider vinegar is always a great ingredient to add to hair products.
There's not an exact measurement since this will vary based on the thickness and length of your hair but start with one tablespoon of Bentonite clay for hair washing and add enough liquid to make it resemble the thickness of an egg yolk.
If you're having trouble with the clay clumping on you, give it a spin in your blender beforehand.
When you're in the shower, wet your hair so that it is all wet but not dripping.
Dip the ends of your hair into your Bentonite clay mixture to make sure that they are coated and then pour any remaining mix over your hair.
Work it through with your hands, like you would with a store bought shampoo.
Just keep in mind that it won't foam up like you might be used to. Allow it to sit on your hair for about five minutes (less if you notice your hair drying out after a few cleaning sessions) and rinse thoroughly.
Bentonite Clay for 4c Hair
If your hair type has been classified as 4c, you know how fragile it can be. Using too many products or styling it too often can lead to severe damage and even breakage, which isn't ideal when your hair tends to shrink quite a bit on its own. To combat this, consider Bentonite clay for hair.
Replacing your shampoo and conditioning routine with a Bentonite clay cleanse as mentioned in the previous section can help to define curls (which usually aren't with 4c hair) and provide shine and definition.
You should instantly notice a difference and can experiment with different amounts of clay and liquid to find the perfect concoction for your individual hair type.
Bentonite Clay for Low Porosity Hair
Low porosity hair simply means that it has trouble taking on moisture. The good news is that once you are able to penetrate the hair cuticle layer with moisture, it won't dry out very quickly.
Not sure if your hair is high or low porosity? Monitor how long a strand floats or how fast it sinks when in a glass of water. It will sink if it is taking in moisture. If it floats, you have low porosity hair.
But fear not-Bentonite clay for hair can help! Here's a basic recipe for adding moisture to your hair with clay.
3 tablespoons Bentonite clay
1 cup Rosewater
¼ cup apple cider vinegar
Mix all ingredients together and apply to hair. For maximum results, place a layer of plastic wrap over your hair to seal it and sit for about half an hour. Rinse well and apply a conditioner of your choice if desired.
1. Aztec Secrets: Indian Healing Bentonite Clay
I keep talking about Bentonite clay but how do you get your hands (and hair) on some? No need to find the nearest volcano.
Aztec Secret offers a fabulous Bentonite clay product that comes highly recommended.
I love Aztec bentonite clay because it doesn't contain any additives, fragrances or animal products.
It's 100% Aztec Bentonite clay. Use it on your face, in your hair or just about anywhere on the body for improvements.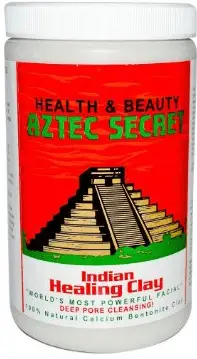 Buy for $ on Amazon
Bentonite clay for hair reviews can tell us about tips that most blogs and users forget to mention-don't mix your clay in a metal bowl or with a metal spoon.
This is because it absorbs impurities, like heavy metals, and introducing it to this material will activate it before you want it to be. Wooden mixing utensils are best.
When you're looking for the best clay to use in your homemade hair products, Aztec Bentonite clay is the way to go.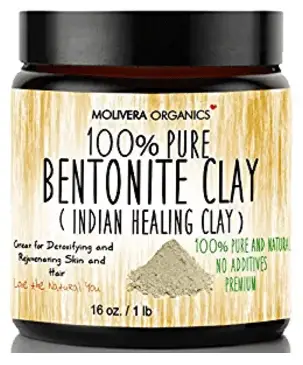 2. Molivera Organics
Rating
This brand of bentonite clay for hair is 100% pure and sourced from Wyoming.
It's hypoallergenic and recommended for those with sensitive skin, so it can be used on your face and body as well.
I've used Molivera Organics to help reduce the deepness of some forehead wrinkles. Within a few treatments, I noticed the wrinkles were looking better.
After a few more, they were almost completely gone. My skin was tighter and brighter, which was the exact result I was after.
I currently use it for my hair. It helps to remove product buildup and always adds some much needed moisture to my locks. They're always touchably soft and full of life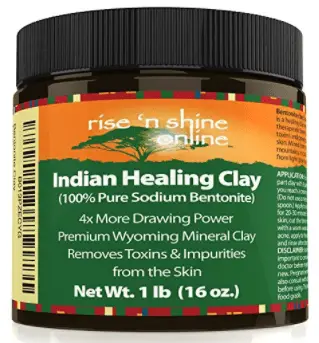 3. Rise 'N Shine
Rating
This is one of my favorite brands of bentonite clay for hair.
Though it's mainly marketed as a skin treatment, this particular brand works great as a hair mask.
The shelf life of this product is between four and five years when properly stored, so if you don't administer bentonite treatments that often, you won't have to worry about your investment going unanswered.
The product is 100% pure sodium bentonite, which is ideal for facial treatments. It will help to draw out toxins and impurities while leaving your skin smoother and tighter. You'll see the difference in just one treatment.
However, because it's sodium bentonite rather than calcium bentonite, it should not be ingested.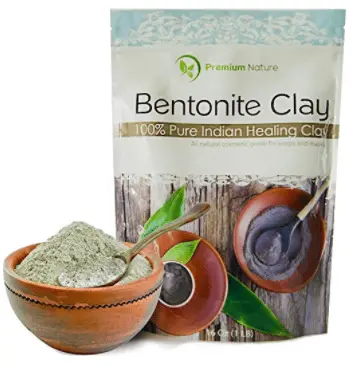 4. Premium Nature
Rating
Even though Premium Nature is a great bentonite clay for hair, it's also perfect for treating acne. It's the highest premium grade of bentonite clay and 100% natural.
It's hypoallergenic, chemical free, and gentle enough for sensitive skin.
I recommended this clay to a friend who was dealing with a rough bout of acne. She was hesitant at first, but once I showed her how easy and soothing the treatment process was, she decided to give it a try. The results were dramatic and fast. Her skin now looks better than it has in years, and she looks younger, too.
I use Premium Nature for my skin and hair. During the cold winter months, my scalp tends to get dry and itchy. I used to suffer through the season, but now that I have bentonite clay, a few treatments is all it takes to add moisture to my scalp again and eliminate the itchiness.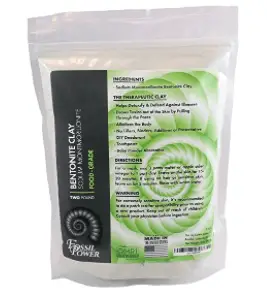 5. Fossil Power
Rating
If you're looking for a bentonite clay for hair, face, body, and more, Fossil Power is your ideal brand. It's designed for internal and external use and helps to cleanse, heal, and detoxify.
Just make sure you speak with your doctor before consuming it. It's 100% pure and contains no additives or preservatives.
What I loved most about this brand is how it seemed to shrink my pores almost instantly. As I've aged, my pores have seemed to increase in size. I've tried just about every pore minimizing cream on the planet, but nothing works like Fossil Power does. My skin looks smoother and younger every time I use it.
Bentonite Clay Hair Mask Recipe
A hair mask is a fun treat for you and your hair that can instantly transform your entire look. A mask is a little more involved than a Bentonite clay shampoo but it's well worth the extra effort.
There's a few fun ingredients in this recipe that can really work a miracle on your hair. Of course, there's bentonite clay for natural hair results but that's not all.
First, there's coconut oil, which has a surplus of vitamins and nutrients. It will help prevent protein loss and keep your hair super healthy.
Castor oil is known for its antibacterial properties so it will help to keep your scalp healthy. A healthy scalp equals healthy hair.
Sweet almond oil will control shedding and boost shine. It really locks in moisture and can leave your hair feeling silkier than it ever has. The smell is also heavenly.
Here's the entire clay for hair recipe. While it will still work without an ingredient or two, keep in mind that each ingredient has a purpose and for best results, take the time to track down all the unique components.
½ cup Bentonite clay
1 tablespoon coconut oil
1 tablespoon castor oil
1 tablespoon sweet almond oil
6 tablespoons apple cider vinegar (unfiltered and with mother)
3 tablespoons water
To make the mask, pour the hair clay into a plastic or glass bowl. Add the oils and begin to stir with a wooden spoon. Add the apple cider vinegar and allow the mixture to foam for a few seconds. Add the water last.
Stir everything together. You may need to stir very hard to incorporate all the ingredients. The final product should be smooth and free of lumps.
When you're ready to apply, make sure that your hair is a little damp. Work in small sections and apply the mask with either your fingers or a small brush. Coat your hair and put on a shower cap to keep it all put. Sit for about half an hour.
If you have access to a hooded dryer, the additional heat will really help the mask penetrate each hair strand but it's not necessary.
When you're ready to rinse, get in the shower for best results. Trying to rinse out this mask in the sink isn't very easy. When almost all of the mask is rinsed out, add a conditioner. Let it sit for a few minutes and then rinse hair clean.
You won't believe the transformation that this mask provides your hair with. You'll be left with smooth, moisturized, silky and frizz-free hair that's easy to manage and style.
Bentonite Clay for Hair Growth and Hair Loss
When you start to notice more and more strands of hair in your hands or brush after styling, you can feel hopeless. Hair loss can be caused by a variety of reasons, including stress, hormonal imbalances and genetics.
But luckily, we can fight hair loss with some great natural ingredients, including Bentonite clay for hair.
Here's a great clay for hair mask to try if you're suffering from mild hair loss.
4 teaspoons Bentonite clay
Enough apple cider vinegar to make a batter
3 drops cedarwood essential oil (stops hair loss)
3 drops lavender essential oil (stimulates hair growth)
3 drops rosemary essential oil (stimulates hair growth)
3 drops thyme essential oil (stimulates hair growth)
1 dose marshmallow root
1 dose nettle leaf
Mix all ingredients together until they are smooth and lump free. Make sure that your hair is damp.
Work in small sections, making sure to massage the mask into your scalp and hair. Wrap your hair in plastic wrap or put on a shower cap. Let the mask sit for about 45 minutes. Rinse out in the shower for best results.
Bentonite Clay Hair Detox
Toxins and impurities can build up in your hair just like they can anywhere else in your body. It's a good idea to complete a hair detox every now and again to prevent serious damage to your locks.
Here's a great clay for hair recipe to try that will remove toxins and leave your hair clean, shiny and full of stunning volume.
1 cup brewed herbal tea (try ¼ cup rosemary leaf and 2 tablespoons nettle leaf in 2 cups of boiling water-allow it to boil for several minutes and then cool and strain)
½ cup apple cider vinegar
¾ cup Bentonite hair clay
5 drops lavender essential oil
5 drops rosemary essential oil
Mix all ingredients together (remember, no metal!) until the solution is smooth and free of lumps. When you're ready to apply, make sure that your hair is a little damp.
You can apply this solution directly in the shower if you want. Work in small sections and apply the mask with your fingers. Leave on for 10 minutes before rinsing. Don't allow this mask to dry.
You should instantly feel a difference in your hair. For an added bonus, rinse with any leftover herbal tea with a splash of apple cider vinegar. If you listen closely, you should be able to hear your hair thanking you.
Feel free to style as you normally would after using this mask. Using your PYT flat iron or a hair brush straightener is fine. While you'll want to use a heat protecting spray, try not to overdue the products since you just clarified your hair.
Note: This recipe might make more than you need. You can store any unused portion in a plastic, covered container in the shower.
Bentonite Clay Side Effects
Nothing is perfect, right? Bentonite clay does come with a small list of side effects. Even though none of these occurrences are guaranteed, it's best to be prepared in case that they do.
Muscle pain
Tired muscles
Headaches
Joint pain
Nausea
Sore throat
Here's the good news though. Most of these side effects only occur when the clay is taken internally. If you are only using the clay on your hair, side effects are minimal and in many cases, never occur.
If Bentonite clay is left on your hair for too long, it can begin to dry it out. Always adjust your application times as needed.
It can also dry out any skin that it comes into excess contact with. If you do notice any scalp or facial irritation during your applications, rinse out the clay to prevent further irritation.
Overall, Bentonite hair clay is a safe and effective natural material that can really transform your hair into the hair you've always dreamed of. Bentonite clay hair mask benefits definitely outweigh any possible risks.
Like most things, there's a bit of a learning curve associated with using Bentonite clay but before you know it, you'll be a pro at mixing up homemade shampoos and masks to improve your hair.