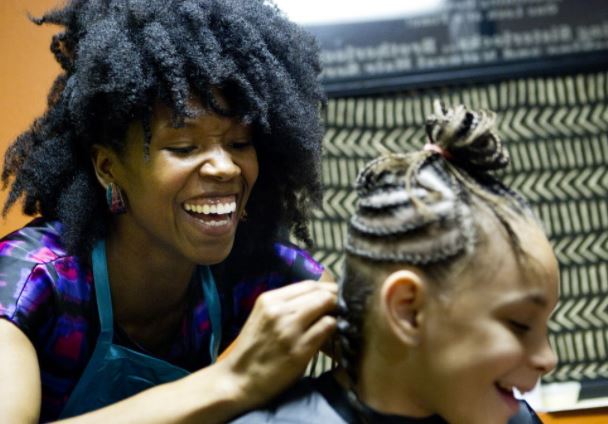 It is unknown to many that the function of African hair braiding isn't limited to fashion or style only. African hair braiding is a practice that has more than one function.In Africa, braiding hair is a chance to socialize. Particular styles of braids symbolized one's social standing in the community. Hair braiding is also a sign of the friendship, intimacy, confidence, and goodwill being shared among girls and women.
In this article, you will not only learn about the different styles of African hair braids but also where African hair braiding came from and how it came to be. The functions and advantages of hair braiding will also be discussed in this guide. We will also leave you tips on how to take care of your braids and how to make it last.
History of African Hair Braiding
Did you know that in Africa, the braiding of hair is an ancient art that has been handed down from generation to generation? The origins of hair-braiding can be traced back as far as 3500 BC. Each of the braiding styles was special and unique. It varied from every region and every tribe of Africa. Each African region had its own style and each tribe's looks was distinct from one to the other.
Braiding Styles and Patterns
Hair braiding has developed into complex patterns in many West African countries. Each of these patterns signaled one's social status, age group, and even the village where one is affiliated. There are certain elaborate hair treatments that are reserved for ceremonial occasions. These include weddings and other forms of rites of passage.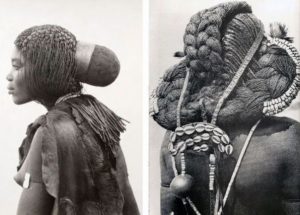 Principally, braided hair is a woman's form of art and fashion. However, in some areas in Africa, there are men who also create and wear these styles.
The girls in the village wear their hairstyles into braids or knots at such a very young age. These girls first have their hair done by their older female relatives. And these relatives can be their sisters, mothers, grandmothers, cousins, and aunts.
The Art of Braiding

These women learn first by watching, and eventually by practicing what they learned. Girls who are just developing these skills usually practice either on their peers or girls who are younger. This is because no girl wants to have her hair done by someone younger and "less adept."
Braiding someone else's hair is an immensely time-consuming activity. Some braiding styles can take an entire day to create, some would even take more than a day. For those who have already mastered the art of braiding, there is actually an informal reciprocity to this practice.
If somebody braids your hair, it is expected of you to return the favor and braid their hair too. However, the practice of this intricate traditional art will depend on the ample leisure time one person has. This is most common for those living in the rural and village communities.
In part, hair-braiding has been turned over to the professionals due to the urbanization and industrialization of our world. However, the more complex and intricate braided styles can still be found in the village settings today.
Hair Braiding Today
Nowadays, the salons offering the simpler version of the traditional braided styles have become commonplace in the urban areas of Africa. And over the last two decades in the urban areas of the United States, a lot of braiding salons have also sprung up.
We have said it before and we will say it again… Hair braiding offers women an opportunity to socialize together due to the fact that finishing a braid takes so much time.
In most hair salons, the braiders and their customers alike talk and laugh together. They form bonds by watching videos and listening to music together. Generally, they entertain each other throughout the long hours of hair braiding.
This form of socializing in the hair salons recalls the informal sociability that the women in Africa shared at home while practicing hair braiding for each other.
Hair Talk
We know you already want to head onto the hair braiding part. But before you do anything to your hair, it's important that you know exactly what you're working with. This is so you can make the best choices for styling and the best way of treating your precious hair.
Your hair follicles' shape determines how much or how little curl your hair has. Just a little recap from your biology class, remember that the rounder the follicle, the straighter the hair grows? While the flatter the follicle, the curlier your hair grows?
According to most hair typing systems, there are four types of hair: straight (type 1), wavy (type 2), curly (type 3), and kinky (type 4). Mostly, African-American and black hair types fall under types 3 and 4, with a minority being type 2.
Type 4 — Kinky Hair

Type 4 is kinky or very tightly curled and has a clearly visible curl pattern. This type can range from fine or thin to wiry or coarse with lots and lots of strands densely packed together. The hair is very wiry, very tightly coiled and very, very fragile.  Kinky hair has fewer cuticle layers than any other hair type. Meaning to say, it has less natural protection from the damage you inflict by combing, brushing, curling, blow-drying and straightening it. Kinky hair is known to shrink up to 75% of the actual hair length.
There are two Type 4 subtypes: 4b and 4a. The 4b has a "Z" pattern. Instead of curling or coiling, this hair type bends in sharp angles like the letter "Z". This has a cotton-like feel.
Meanwhile, 4a is a tightly coiled hair that when stretched, has an "S" pattern. It's much like curly hair. Compared to 4b, this one tends to have more moisture and definite curl pattern.
Type 3 — Curly Hair

The curly hair has a definite loopy "S" pattern. The curls are well-defined and springy. Compared to Type 4, type 3 hair has a lot of volumes. It can be easily styled in its natural state or straightened with a blow-dryer. Contrary to the belief of many, curly hair isn't coarse. It is soft and very fine.
This curly type has two subtypes: 3b and 3a. From bouncy ringlets to tight corkscrews, 3b has a medium amount of curl. In 3a, curls are naturally big, loose and usually very shiny. The combinations of these subtypes are common.
Type 2 — Wavy Hair
Wavy hair sticks close to the head. Type 2 won't bounce up, not even when it's layered. The curl or waveforms throughout the hair in the shape of the letter "S".
There are three subtypes of wavy hair: 2c, 2b, and 2a. Subtype 2c is thick and coarse. It is more resistant to styling and will easily frizz. The second subtype is medium-textured. The 2b subtype is a little resistant to styling as well as having a tendency to frizz. Lastly, 2a is fine, thin and very easy to handle. This one can be easily straightened or curled.
According to the HuffPost, the curliness of African hair causes it to have less moisture content compared to other ethnic groups. Each ethnic group's scalp produces a natural lubricant called sebum. This is an oily substance that moisturizes and protects your hair follicle.
The second source of moisture that all ethnic groups need to moisturize their hair with is water. Sebum and water travel down the hair shaft to moisturize the hair. However, when these two elements are not able to do so, it leads the hair to dry.
The shape of the curly hair, especially tightly curly hair, does not create a straight path for sebum and water to travel all the way down the hair shaft.  This is why kinky and curly hair quickly loses moisture after washing.
Hair that's not moisturized reduces hair pliability.  If hair is dry, it makes it even more difficult to manipulate the hair without breakage. This is one of the reasons why moisture retention is very important for a healthy kinky and curly hair.
Furthermore, African hair does not benefit from daily washing. Hair that's washed every day is stripped of its natural and essential oils. This leads to dryness and weathering of your hair fiber.
Later on, we'll tell you how to protect and care for your precious locks.
What Are The Functions Of African Hair Braiding?
There's actually quite a lot. But we won't be mentioning all of them. In some regions, a braid was a means of communication. In one glance, an individual could distinguish a whole lot of information about another. A braid can tell whether they're married, mourning someone's death, or of age for courtship.
Braids were once a means of social stratification or probably they still are. Specific hairstyles were distinctive to particular tribes or nations while other styles informed others of an individual's status in society, wealth, or religion.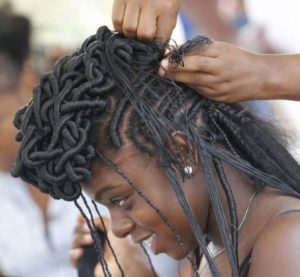 African hair braiding is traditionally a social art. Because of the time that it takes to braid hair, women have often taken time to socialize. Hair braiding begins with the elders making simple knots and braids for younger children. The older children watch and learn from them. They start practicing on younger children, and eventually learn the traditional designs. Braiding hair carries on a tradition of bonding between the elders and the younger generation.
Advantages of African Hair Braiding
Having your hair braided can definitely help your hair look amazing. There's a great variety of braids and braids styles so you can easily change your hairstyle. Braiding your hair also protects your it because it helps prevent from having split ends. When you decide to braid your hair on a regular basis, you give it a break from the daily washing that can be harmful to your hair. Not washing your hair every day can be very beneficial especially when your hair falls under type 4 and type 3.
Getting your hair braided comes with a lot of advantages. One example is that braids can last a long time, typically up to one or two months. Long-term styles that remain to look nice can give you a break from styling your own hair. You have the option to get the braids around the edges redone so your style remains fresh-looking. Just make sure they're not pulled too tight.
African hair braids are a great protective style. Whenever your hair is braided, your hair and its ends are tucked away. This ultimately results in better length retention. Your hair grows longer because of being hidden from the earth's elements. But you better not keep them in for over two months.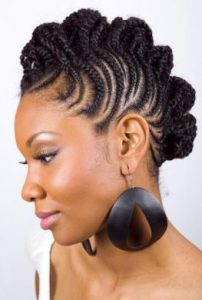 Another advantage of African hair braiding is that it lowers the amount of maintenance required for your hair. However, it does not completely eliminate it. You still need to maintain your style. This way you can keep it looking nice. Don't forget about your scalp or your natural hair underneath those braids. Later on, we'll talk about how to take care of your hair, scalp and your braids.
And lastly (for this guide), there are so many options for braiding style. The list is endless! You will see in the later part of this article the many styles of hair braids. There's a handful of designs for braids, giving you the freedom of being as creative as you like.
What You Will Need
For sure, you're already excited to get your hair braided. You already might have an idea of where you'll have your braids done, or who'll handle it. But you need to be ready with the essentials before and after you have your braids installed. You also need to be equipped with necessary products for your hair and scalp while you wait for your braids to be finished. We have listed a few products that might be useful to you, just in case your salon tells you to bring your own stuff or if your scalp is a little sensitive.

Prepping The Scalp And Roots
A long-lasting African hair braid style starts at the installation. You need a product that can hold tight. We recommend water-based gels or pomades. You can have anything that provides a strong hold and shine without getting heavily stiff. Try Oyin Handmade's Burnt Sugar Pomade. This pomade has a waxy texture. It is perfect for braiding because it will keep your hair sleek and in place. This is a blend of oils, butter, and veggie waxes. These ingredients act as a protectant for hair. Oyin Handmade's Burnt Sugar Pomade is packed with essential fatty acids to nourish your scalp. It actually sinks into your hair and skin for a long-lasting, non-greasy feeling.
To protect your roots, consider using an oil on your scalp. It will lock in moisture and will give new growth elasticity for your hair when your braids start to tug at the roots. Cantu Tea Tree & Jojoba Hair & Scalp is made with pure Shea butter, tea tree, and jojoba oil. These ingredients replace vital oils revealing stronger, healthier hair with a natural shine while conditioning the scalp. It conditions and soothes the scalp while moisturizing the strands of your hair and promoting healthy growth.
Your new hair parting will make your scalp more susceptible to bad elements. Go ahead and grab a massage-in scalp balm to keep it healthy. Apply Sulfur 8 Medicated Hair and Scalp Conditioner if your scalp is dry to control the flaking, itching, and dandruff. This product is ideal for natural, pressed and relaxed hair. It improves your hair texture and makes your hair more manageable.
Hair Prepping
One way to keep your hair healthy and manageable while the braids are in is to prep it with a moisturizing butter prior to braiding. If you prefer to stick to organic products, then you can braid using pure shea butter, coconut oil, or beeswax. We recommend Shea Moisture Jamaican Black Castor Oil Strengthen & Grow Loc & Braid Butter. It is loaded with reparative omegas, Jamaican black castor oil that nourishes the scalp and restores damaged dry hair.
To Stay Fresh And Shine
After a while, a braided and twisted hairstyle can smell a little worn. You have to keep your braids fresh with a hair tonic. Bumble and Bumble Tonic Lotion Hair Primer will do magic for your hair. It is a rich mix of herbs and vitamins, with a healthy dash of tea tree oil. The product is ideal for people who don't use conditioner regularly in the shower.
When you get up in the morning, those baby hair tend to get up too. Try Let's Jam Conditioning Gel by Sheen N Carson to slick it down. This is a great product to revive your look.
Or you can also try Shu Uemura Art of Hair Shape Paste. This is also great for pushing hairs back into place after swimming or sweating your hair out. Take a dime size amount and smooth it down each braid, starting at the top.
Don't forget, yes your braids look beautiful but you have to stay shiny. Oil sheen sprays are also great for adding a finishing shine to your styles.  Polish your braids with a quick shine spritz if you do not have the time to do a detailed touch-up. Drybar's Sparkling Soda Shine Mist will help you keep your gorgeous braids shiny.  This super fine mist calms flyaways, static, and frizz without weighing down your hair. It is great for all hair types including keratin-treated and color-treated hair. It imparts luminous shine and contains UV absorbers to keep the color vibrant and prevent it from fading.
Oftentimes, fuzziness often occurs when you scratch and put friction on your braids. Carol's Daughter's Mimosa Hair Honey Calming Tension Spray is exceptional for soothing the scalp after getting braids. This spray incorporates peppermint and orange oil to soothe the scalp. It effectively keeps the itching to a minimum. It also has such a pleasant smell. This is a must have when wearing braided styles.
Whether you have hair extensions added or not, smoothing the ends of your braids can instantly refresh your style. Use OGX Coconut Milk Anti-Breakage Serum. This product works to smooth, condition, strengthen and instantly repair your hair. The weightless blend of coconut oil and silk will wrap a fragrant layer of protection around each strand.
Get the moisture without the frizz with a super light leave-in conditioning spray with Macadamia Professional Weightless Moisture Conditioning Mist. This leave-in mist alternative is infused with the exclusive pro-oil complex of macadamia and Argan oils to help strengthen and repair. Collagen, silk amino acids, and quinoa strengthen and improve the tensile strength of even the most delicate textures.
Research also says that caramel is good for softening african hair, read about the caramel hair treatment here.
Protect Your Braid While You Sleep
Perhaps, the most important thing is to tightly cover your braids at night with a scarf or head wrap to avoid damaging them while you sleep. Doing so reduces rubbing so you will wake up flawless, even two weeks into your style. If you don't have one yet, you can purchase Paisley Cotton Bandanas on Amazon.
Cons of African Hair Braiding
We have discussed earlier the many advantages of African hair braiding. Now, we also need you to know that also comes with disadvantages. It is important to know these things so you have an idea of what you might be facing. Our hair is precious, therefore, we must not take for granted the cons of hair braiding.
While hair braiding gives protection to your hair, it can also cause hair breakage and breakage around the edges. If braids are installed too tight or hair's already weakened, chances of your hair breaking off your hair or the edges will increase. This will also depend on the size of the braid you have. Note that braids that are too large, heavy or really small braids, like micro-braids are most likely to cause breakage to your real hair.
Hair braids can be a bit pricey, depending on where you go. To add, the length and size can affect the price of the service. So if you have long and thick hair, expect to pay more.
Hair braid installation, including the removal of braids, can take a long time. You better make sure to have plenty of time and patience. And if you're a parent, you need to schedule for a babysitter as well if you feel like not bringing the little one in the salon.
Braids are a beautiful hairstyle that can suit any individual and personal style. So whatever braid style you choose to rock, rock it well. Continue reading so you'll learn more about different styles of braids.
Different Styles Of African Hair Braids
Braiding doesn't eliminate the need to wash your hair. It is necessary that you wash your hair regularly when you have braids. Bear in mind that braids don't have to be tight to be effective. If your braids are too tight, this could cause damages to your hair. Wearing them tightly breaks your hair and pulls your hair follicle. It could cause headaches as well. It shouldn't have to hurt to be pretty.
In this section, we will talk about various styles of African Hair Braids. Remember to keep in mind the type of hair you have.
Two Strand Twist Style

Two strand twists are a versatile protective style that looks chic, modern and neat. This style will definitely make you stand out from the crowd.  
There are a plethora of ways to style your twists. You can shape them into gorgeous hairstyles for both everyday wear and for special occasions. Kinky twists styling options are endless! You might be overwhelmed with the number of styles you'll find on the internet. We'll also try to teach you the easy, simple steps.
Getting Ready For Your Twists
In getting ready for your twists, first, you need to decide what kind of twist style you would like. Then, you can divide the hair into large sections for fewer twists or do small random twists all over the scalp. The styles and options are almost endless as we said, so choose the one you feel most comfortable with.
Second, shampoo and condition your hair. Give your hair a nice shampoo lather and rinse, followed by a thorough conditioning. Once you have finished washing your hair begin drying by only removing excess water. It is very important to leave your hair a little damp.
Try removing excess water by blotting or squeezing the hair gently with a cotton t-shirt. Do not rub your hair to avoid breakage.
It's best not to use a towel because it will dry your hair out. Also, it will make your hair frizzy and your curls can get tangled in the towel. Continue blotting if your hair has drops of water dripping off the ends.
Third, detangle the hair. Comb through the hair with a wide-tooth comb. Start by combing the ends of your hair. Once the tangles are gone, then slide up an inch or so and (still combing downwards) keep combing until all tangles (from the roots – down) are gone.
Use a detangling spray like Kinky Curly Knot Today for a smoother comb through.
After, part your hair into two sections. Use a rat-tail comb to part the hair horizontally from ear to ear. Hold the top and bottom sections separate from each other by using hair clips for each section.
You then divide the top and bottom parts into six even sections, depending on the number of sections that you like. These are the sections you will use to make your twists.
To create three sections on the top part, part your hair running from the crown down to the horizontal part you previously made. Clip each section after so they remain separated.
To create three sections on the bottom part, part the hair running from the base of your scalp up to the horizontal part you previously made. Clip each section so they remain in place.
Twisting The Hair
Remove the clip from the first section of the hair. This will be the only section that is not clipped or not twisted and loose. It may be easier to work from the bottom to the top so you do not take the chance of messing up the top twists.
Comb that loose section. Use the wide-tooth comb again to remove any tangles that might have been created in the separating and clipping process.
You can use hair lotion or pomade that we have recommended. Hair lotion or pomade makes the hair follicles sticky and will help to lock in the style. Rub either the hair lotion or pomade onto your hands and smooth into the loose section of hair to be twisted.
Next, secure and separate the loose section. Use an elastic rubber band (optional) to hold the hair into place and separate the hair into two new sections.
Place the rubber band as close to the roots as possible while taking care to not pull the hair too tightly. Please make sure the two separated sections are even.
Then, twist the two new sections of hair together. Cross left over right until the end of the section is reached. Allow the ends to curl on each other and apply hair gel to hold the twist in place.
Embellish And Protect
You may embellish your twists with beads, barrettes, bows, or elastics with balls. The embellishments can be added to the ends or base of the twists. Normally, barrettes, bows and elastics are snapped or tied into place. We recommend that you sleep with satin. Wearing a satin scarf or sleep on a satin pillowcase will help your twist style stay intact all night.
Do's and Don'ts
If your hair begins to dry while doing the two-strand twists in other sections, try to dampen with a water spray bottle. To achieve a smoother and shinier twist, comb each section of hair. If a twist style begins to unravel or look frizzy, unravel the twists and separate into more sections, then re-twist. Twists may be done with clean, dry hair if you use a water-filled spray bottle to dampen the hair. Be careful not to pull too tight if you use rubber bands to secure the base of the braids. Hair loss may occur if the hair is pulled too tightly.
Here is a video tutorial on how to Two Strand Twist your 4C Type Hair. 
Box Braids
Box braids are literally just three-strand twists. They can give you that chic, bohemian look you've always wanted. Getting box braids make hair maintenance much easier. Having box braids professionally done at a salon can be expensive, but you can create this hairstyle at home. You can do this by attaching synthetic hair to your natural hair. And with some patience, you can achieve those beautiful box braids in no time.
Hair Preparation
Start by washing your hair with your favorite shampoo in the shower or bath. Then, apply a moisturizing conditioner so your hair doesn't become frizzy when you dry it. If your hair tends to be very dry or frizzy, use a leave-in conditioner. Even if you're going to use hair extensions for the braids, you should shampoo and condition your hair. This ensures that the hair extensions attach properly to your natural hair.
Next, blow dry your hair straight if it is very curly. You must apply a heat protectant gel or spray to your hair before you blow dry it. With a brush, blow dry your hair in sections so it lays flat and straight. This can make parting your hair for the braids easier, especially if you have very curly hair. You can also flat iron dry your hair with a hair straightener if you'd prefer. Just make sure you apply heat protectant before you straighten your hair.
If your hair ends are dry or split, trim them carefully. This can help to keep from fuzziness at the ends and keep the braids locked in for a longer period of time.
Then, divide your hair into four box-shaped sections with a wide-tooth comb. You can section your hair by dividing your hair down the center from your forehead to your neck, then from ear to ear. Leave the first section you plan to work on undone. It is best if you ensure the sections are evenly parted, with a clear straight line at the roots, forming a box shape. Use three large hair clips to keep the remaining three sections out of the way.
Using your hands, run a small amount of hydrating gel or cream on the ends of your hair, rubbing in the gel well. This will help to keep the ends of your hair moist, reduce frizz, and make it easier for the synthetic hair to blend in with your natural hair. Use the comb end of the comb to brush away any flyaways above the part so the part is straight and clean. Tie back the rest of the hair in the section so it is out of the way.
Sectioning Synthetic Hair
Get 6-8 packs of synthetic hair for long, thick braids. Rather than the human hair, use synthetic hair for the box braids. Shorter, thinner box braids may require fewer packs of hair.
Place hair extensions between your fingers in a staggered line. Break hair into 3 sections. Place 1 section of the hair extensions between your pointer and middle finger. Then, take the next section and place it between your middle finger and ring finger 1 to 2 inches below the first section. Hold the third section between your ring finger and pinkie 1 to 2 inches below the second section.
Next, remove one-third of the hair. Set it aside, as you will not be using it to form the braid. You can use it later when you make new sections of hair for your braids.
Form a loop with the remaining hair. Take 1 section of hair and place it over the remaining section of hair so they interlock into each other to form a loop. Make sure 1 section has more hair than the other. The 2 pieces of hair should create a loose loop, where the smaller section hangs over the bigger section.
Attaching Synthetic Hair
Place the synthetic hair over your natural hair at the roots. Allow your natural hair to fall in the middle section of the synthetic hair. You should have 3 strands of hair, 2 strands on the outside and 1 strand in the middle. Your natural hair should fall underneath the synthetic hair in the middle section.  
Braid your natural hair in with the synthetic hair. Maintain a firm grip on the synthetic hair and your natural hair with your fingertips so the synthetic hair does not slip off.
Keep braiding the hair all the way to the ends, reaching underneath the middle section to place the hair sections on top of each other. Don't braid too tightly, as this can lead to hair damage. Keep even, firm pressure as you braid so the braid appears uniform and smooth.
Secure the end of the braid with a hair elastic, if needed. Braid each section one at a time, taking breaks as needed. Make sure you create each braid quickly and evenly, as braiding your hair too slowly can cause frizziness. Apply the same amount of pressure so the braids all have the same thickness and shape. Trim off any flyaways with scissors. Dip the ends of the braids in hot water to seal them.
Hair Care
Tie the scarf around your braids at the scalp. If your braids are longer than the scarf itself, you can loosely pin the braids up before wrapping the scarf, effectively shortening them while you sleep, or leave the ends exposed.
Part the braids and clip them up, exposing your scalp. Wash your scalp one section at a time, being careful not to get water on the braids. Massage natural oils into your scalp once a week to keep it hydrated. Take the braids out within 2 months to prevent hair damage.
Marley or Havana Twists
Marley twists use hair that looks a lot like natural afro-textured hair, which separates it from a lot of other braiding styles which use smoother textured synthetic hair. Marley twists use the two strand braiding method, which makes it resemble a dreadlock (hence, Marley twists). Havana twists use the same type of hair and the same two strand twist, but they're much thicker than Marley twists.
Marley twists can be intimidating if you've never made them before, but even though they are time-consuming, the twists themselves are not too difficult to create. Once you pick out the right extensions, all you need to do is literally twist them into your real hair. When done well, this style can last for several weeks.
Prepping Hair
Marley twists are made with a certain type of hair extension packaged and marketed as "Marley hair." You'll want to get extensions labeled for this hairstyle since they will usually come in pre-measured sections, which can make the styling process much easier and smoother.
If hair extensions sometimes cause you irritation or if you have never used hair extensions and tend to have a sensitive scalp, you should consider soaking or spraying the extensions with a solution of water and apple cider vinegar.
Before you install the twists, you should give your hair a thorough washing with shampoo and a deep conditioning with a strong conditioner. Make sure that your hair is completely dry before continuing further.
Comb out your hair with a wide-tooth comb. If necessary, apply a detangler product to remove any kinks or knots.
Making Marley Twists
Divide your hair into 2-inch (5-cm) sections, starting at the nape and gradually working up the back of the head and around to the sides and front of your hair.
Apply hair gel to one section. Working one section at a time, apply a dot of hair gel to your natural hair, smoothing it down securely.
Take one section of Marley hair from your package and bend it at the halfway point. Hold it between two fingers at this point so that it forms an upside-down U-shape.
Start with a section of hair at the back and bottom of your head. Place the bent center of your Marley hair over the top of your real hair, keeping your real hair in the center.
Braid the three sections together for about 1 inch. This braid will secure the extensions in your hair.
Twist the remaining two loose sections around each other, wrapping them securely enough so that they feel tight, but keeping them loose enough to prevent them from starting to coil into a spring.
Use scissors or a razor blade to shave off any hair that extends past your desired length. Seal the end by dipping it into boiling water.
Repeat as needed.
Here is a video to help you.

Senegalese Twist Style
Senegalese twists are similar to Marley twists and Havana twists in their two strand approach, but they are made with silkier hair extensions so they leave a smoother finish.
Senegalese twists are a popular protective hairstyle for Afro-textured hair sported by many trendy, chic women. The look can be created with hair extensions and is easier to do than microbraids, cornrows, and many other braided hairstyles. It takes up to six hours to do twists, but they can last 2-3 months if well cared for. With practice and the right supplies, you can do Senegalese twists on your own or with a friend.
Hair Preparation
Determine if your hair is long enough. Then, decide on a type of extension. Open the package of extensions and separate the strands of braiding hair, if woven together, by gently rubbing them between your fingers. Separate the extensions into sections based on how wide you want your twists to be. Then, fold each section in half so that it forms a "U" shape. The bend is the point at which the extension section will be added to your real hair, while the two ends will be woven into the twists. Wash, detangle, and dry your hair.
Creating Senegalese Twists
Part your hair as desired. Choose a section of hair in the lowest layer, closest to the back of your neck. The section should be 1 inch or less in width. Split the section of hair into two sub-sections. Use your fingers to gradually twist each smaller section to the right. Continue twisting until each section has been begun to twist into a coil.
Lay the center of a prepared piece of synthetic extension hair over the two sections of real hair before you begin twisting and coiling them. Bend the extension hair so that the center remains in between the two split halves of real hair. The ends of the extension should drape over the two sections of real hair already separated out.
Overlap the right-hand section of hair over the left-hand section once. Coil the combined strands of hair to the right, bringing the overlapping section under and back up once more.
Repeat the procedure with the rest of your hair. It is recommended to dip the ends in olive oil or Jamaican castor oil after the water dries so as to lock moisture into the ends, preventing them from drying out. Allow it to dry naturally once more.
Hair Care
You should only wash Senegalese twists once a week. Use shampoo diluted with equal parts water. Apply light oil on your scalp a few times during the week. Spray liquid leave-in conditioner on your braids daily.
Pull the twists back in a ponytail and tie a scarf made from a smooth material around your hair to protect them during the night.
Cornrows
Cornrows are braids that are created flat along the scalp. They have a reputation for being boring or juvenile but that is so not the case! You can get really creative with cornrows so that the hair is plaited into different patterns and alternative directions. Plus, you can have a ton of cornrows or keep it minimalist.
Nubian Twists
Nubian twists look awesome if you prefer a shorter style. They're super springy and flexible. Nubian twists are awesome if you want a lighter approach to extensions without all the bulk and length.
Here's a fun video tutorial on how to create these gorgeous Nubian twists.
Other Styles
Like we said, there are various styles for African braids. You can combine the above-mentioned styles. You can add hair extensions, embellishments, colorful strings, set it to an up-do and a whole lot more!
Conclusion
Before you get those braids, scope out your braiders. Search the internet or look in online forums. Word-of-mouth referrals are always best. However, if you're new, look around for shops that are clean and organized. Once you've found a shop you're willing to try, take a quick visit and see whose creations you like best.
Remember, everyone has their own style and specialty. Some are better at single braids than cornrows. Some start Senegalese and Marley twists with braids, while others start the twist from the root. Everyone starts their weave base differently.
And finally, know that it is always okay to ask questions. We hope you learned a lot from this guide. Until next time, ladies!